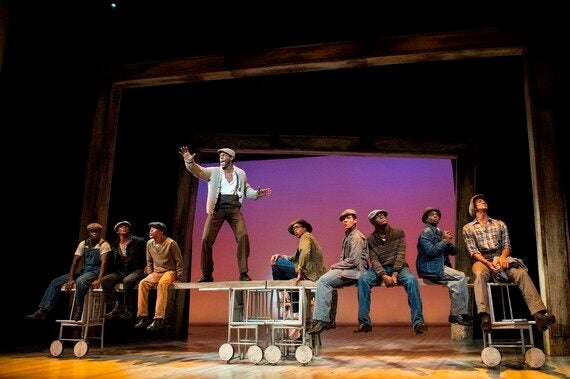 The true story of The Scottsboro Boys is a harrowing and drawn out story of injustice that spanned decades. Yet from it, this truly brilliant, electric musical has been created.
In 1931 nine black youths were arrested on a freight train in Scottsboro, USA, accused of crimes they never committed including the rape of two white women. The men were found guilty and sentenced to death. But the case became a cause célèbre for the civil rights movement who fought and fought to have the men released.
Such a sad, sorry tale would make for a fine but dry political drama. Yet in the hands of Director Susan Stroman this is a brilliant, extraordinary musical full of energy and pathos.
Much as in the style of Cabaret, whose musical numbers are in cabaret-style but with darkly political overtones, so Scottsboro Boys does similar. In a quite inspired decision, the creative team decided to use the legacy of the awful minstrel show as the vehicle for this story - and turn it on its head.
In the minstrel show white men would cover their faces in black paint and portray African Americans in ways that were offensive and racist. Here, the cast don't just play the Scottsboro Nine, but also the white women, the white prison guards and the white Sherriff.
The musical numbers are key to the success of this show. The music and lyrics by John Kander and Fred Ebb give this show its heart and soul. Some of the numbers are moving and heartfelt but most are upbeat with deeply revealing and telling lyrics.
And with Susan Stroman at the helm for Direction and Choreography, you are always guaranteed a show alive with energy and drama. And she doesn't disappoint.
Using only a dozen wooden chairs as the basis for her sets - chairs also being a mainstay of minstrel shows - she creates settings that are ever-changing. The set and its cast are always moving, always evolving.
And the choreography is superb. Whether it's the athletic dance numbers, or one of the many escape attempts from jail, every inch of the stage, of the auditorium, is used. It's such juxtaposition that this tale set in prison has so much energy to it but that is the brilliance of the production.
And there simply aren't enough superlatives to describe the cast of this show. The 13 actors, many of whom play a number of roles, are superb, phenomenal. Incredible voices, incredible dancers. Their performances are electric. Their singing, especially their harmonies, is faultless. Most people can't even sing that well standing still, let alone whilst dancing as well.
The story of The Scottsboro Boys is a desperately tragic tale of an injustice that is all too recent. In the show the prison guard shouts at the boys "You are guilty because of what you look like." Sadly you've only got to look at our society today, to incidents such as Trayvon Martin, to realise that prejudice is not dead.
This is a story that needs to be told and needs to be heard. Huge congratulations to the creative team and cast of this show for finding such a passionate and absorbing way to tell this tale. A magnificent achievement. If I could give the world a ticket to this show, I would.