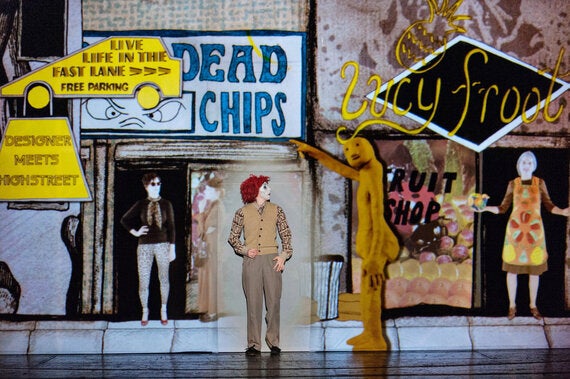 Golem is a dazzling visual feast with a biting social commentary that's enough to put a spring in the step of even the most jaded theatre-goer. In a show that fuses performance with animation, film and music, Golem challenges us to confront the lie that we've been sold - that technology will set us free.
What first grabs you about Golem is undoubtedly its quite stunning production design. A traditional stage setting has been thrown out and instead the actors perform in front of a blend of film and animation, in bold primary colours, projected onto the wall behind them. Mixed with its quirky characters, it's as if you're watching a cartoon brought to life.
The visuals are stunning, no doubt about it, but the story is engaging too. A moralistic tale about our technology addiction may not be radical but it is timely and it is pertinent, and 1927 have chosen a specific angle on this - that greater technological advancement won't give us greater leisure time but instead lead to ever greater work demands on us.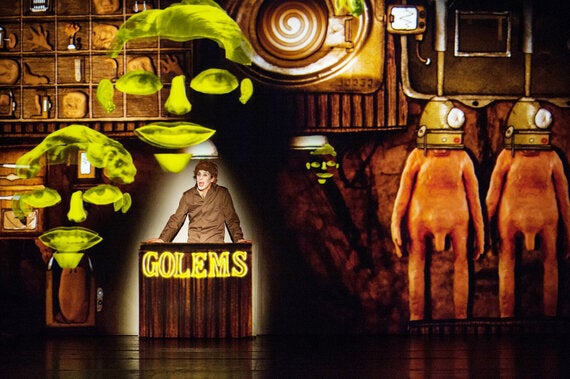 The plot is cleverly centred around Robert, an awkward and shy young man who spends his days working at a binary factory and his evenings playing keytar in his sister's politically revolutionary but performance shy punk-rock band, Annie and the Underdogs.
It's a pedestrian life going nowhere until Robert buys a Golem, a man made of clay that obeys his every command. It's a dream come true - at first. Golem's productivity at the binary factory makes Robert a star and he's a whizz at the domestic chores. But soon the line between commander and commanded start to blur as Golem's influence over the easily-led Robert starts to tell and Robert develops into a work-focused, promotion-grabbing, advancement-obsessive.
Golem is full of energy and wonderful elements. If it's not the humour, it's the animation; if it's not the sentimental love story then it's the music. This is a show that ticks so many boxes.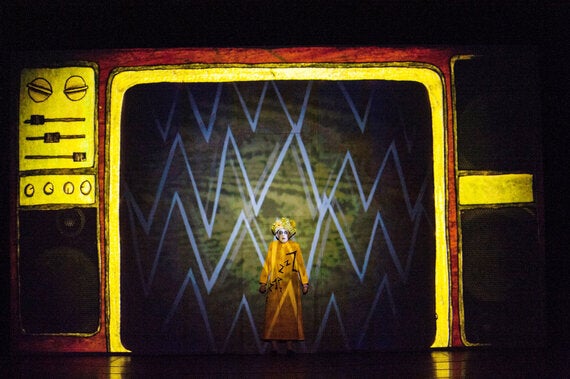 The play was written and directed by Suzanne Andrade and design was led by Paul Barritt but credit is due to the whole creative team at 1927. The five performers work their socks off playing a myriad of roles, including some of the instruments, all requiring a string of costume changes. But it all comes together so effortlessly.
The company, 1927, specialises in productions that combine performance and live music with animation and film yet this is the first of their shows that I have seen and I cannot wait to see what they do next.
This show was sensationally popular when it ran at the Young Vic Theatre last year and so it's a thrill that it has now been transferred to Trafalgar Studios. Golem is warm, witty and wickedly satirical. It deserves to be a success.
Trafalgar Studios, London to May 22, 2015
1. Shamira Turner in 1927s Golem. Photo by Bernhard Müller.
2. Will Close in 1927s Golem. Photo by Bernhard Müller
3. Rose Robinson in 1927s Golem. Photo by Bernhard Müller.