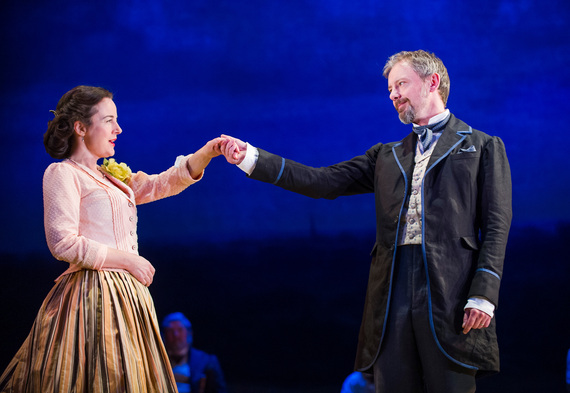 Three Days in the Country at the National Theatre is an exciting, absorbing version of Ivan Turgenev's A Month in the Country. It's smart, funny and overcomes its challenges to keep you entertained.
Turgenev's beautiful phrasing and repartee sparkle in this tragic-comedy of errors about a dashing tutor and his impact on a large Russian estate. However that the main characters in this play are not particularly likeable, or even sympathetic, is a challenge.
Natalya (Amanda Drew) is selfish and bored, and lacks the courage to rattle her cage and break out of her stifling marriage to the ever-angry rich landowner, Arkady (John Light).
As a result, she has for years tortured the lovestruck Ratkin (John Simm) who dreams of whisking her away. Natalya indulges his attentions, at times even demands them. But she has no intention of embarking on any affair.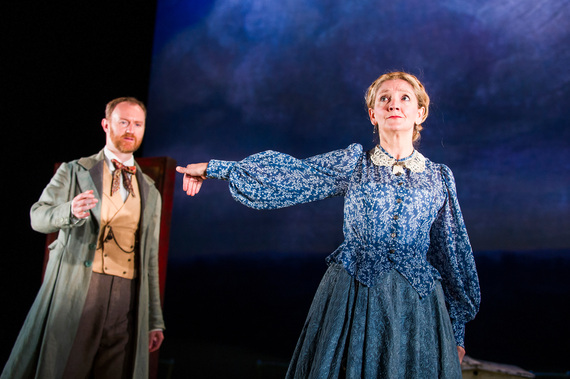 That is until the suave Belyaev (Royce Pierreson) arrives to tutor her son. Belyaev's Casanova-style behaviour sends ruffles through the women of the household, and results in Natalya squaring up to Vera (Lily Sacofsky), her ward, in order to secure Belyaev's attentions for herself.
But given that a love triangle between bitter, angry people can be quite difficult to care about, what saves this production? Its profound and well thought-out investment in the more peripheral characters.
Whether it's the terrific Mark Gatiss as the social-climbing doctor Shpigelsky, Debra Gillett as the sparky Lizaveta or Nigel Betts as the bumbling Bolshintsov, these characters become the heart and soul of the piece, injecting the show with both comedy and pathos. You feel more for them then you do for the rather damaged central characters.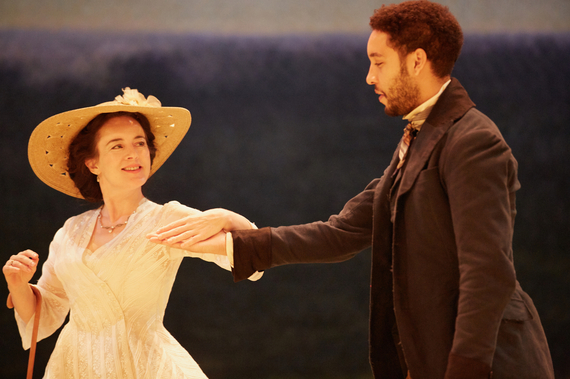 And this skew is managed by some clever directing from Patrick Marber. Scenes are kept short with quick segues from one to the next. It keeps the energy going, pushes the play forward and ensures that no matter if we are in scenes which may not be as interesting for the audience, with characters we may not particularly care for, we are never far away from a quick change-up to bring us back on board.
The bravest part of this production is its design from Mark Thompson. When the curtain lifts, the first thing that hits you is the complete absence of any set. This is a stripped back Lyttleton stage with a handful of props - a table, some chairs and maybe a couple of glasses.
Yet colour and texture infuses this bare arena through the vast painted landscape that drapes the back of the stage, and through the rich, sumptuous traditional clothing worn by all the characters. It is arresting for those expecting a lavish traditional production yet it's exciting and successfully pushes aside all the literal and metaphorical weight of a burdensome set and lets its characters roam free around the stage, giving them space to move and breathe. It injects life into the production.
Yet that is not all I noticed when the curtain lifted at the start of the show.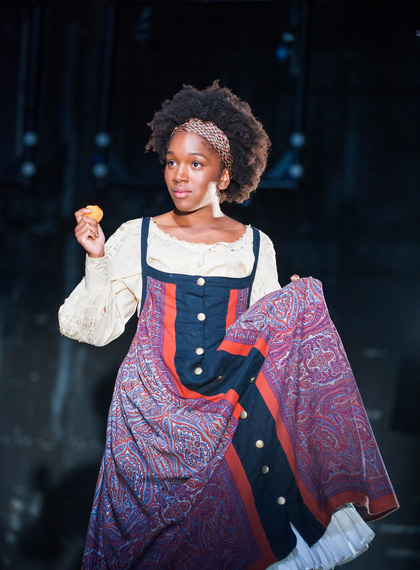 There are 20 parts in this production, about 12 of which are speaking, and only two of these are played by POC and, yes, one of them was playing the maid. I wince any and every time I see a WOC cast as a maid or servant. It's just all sorts of wrong. Just not good enough. Diversity isn't just about numbers but where those numbers are and, well, can we please just stop casting WOC as maids.
That isn't the only diversity concern. Patrick Marber has kind of taken over the stages at the National Theatre. In addition to directing and adapting Three Days, he also wrote The Red Lion, which is showing at the Dorfman, and was the dramaturg for The Beaux Stratagem, showing on the Olivier. The NT has even been promoting this seemingly great achievement on Twitter with the hashtag #PatricksHattrick
For me, that three stages out of the four available at the NT have been handed over to the same white male playwright/director doesn't exactly make me want to do cartwheels. I would have been more impressed if the opportunity had been taken to give an opportunity to a female playwright or person of colour instead.
I have written about the challenges facing female playwrights specifically elsewhere. Considering its place in theatre, the National Theatre really needs to start taking action on diversity as actions speak louder than words and from where I was sitting, it didn't look great.
National Theatre, London to October 21, 2015
Image Credits:
1.Photo credit: Tristram Kenton. Amanda Drew (Natalya) & John Simm (Rakitin) in Three Days In The Country by Patrick Marber, after Turgenev, National Theatre.
2.Photo credit: Tristram Kenton. Mark Gatiss (Shpigelsky) & Debra Gillet (Lizaveta) in Three Days In The Country by Patrick Marber, after Turgenev, National Theatre.
3.Photo credit: Mark Douet. Amanda Drew (Natalya) & Royce Pierreson (Belyaev) in Three Days In The Country by Patrick Marber, after Turgenev, National Theatre.
4.Photo credit: Tristram Kenton. Cherelle Skeete (Katya) in Three Days In The Country by Patrick Marber, after Turgenev, National Theatre.