Last month's introduction of a National Living Wage presented a real opportunity to improve the lives of workers in the UK and make them better off.
While it's a step in the right direction, particularly for those on part-time or zero-hour contracts, there's a danger that the types of incentives that can make a real difference to workers' wellbeing are being eroded.
Across the country, big, highly profitable businesses are cutting corners to cope with the changes and strip back the benefits they offer staff. Italian restaurant chain Zizzi for example, now only offers a mealtime margherita pizza to its staff for free instead of its usual full menu. Meanwhile, Tesco is cutting back on higher hourly rates for overtime or Sunday working, leaving staff worse off for working the same number of hours.
My organisation, the Phone Co-op, was already a Living Wage Employer and has been a member of the Living Wage Foundation (LWF) since 2013. The LWF has campaigned for 15 years for a basic hourly income to meet a workers' basic needs. It calculates the true cost of living, to support oneself and a family, at £8.25 an hour - £1.05 more than the Government's figure of £7.20 for the National Living Wage. Research by the LWF has shown that when this higher figure is implemented, 80% of employers think it enhances the quality of the work of their staff, while absenteeism can fall by approximately 25%.
The National Living Wage is clearly a step in the right direction. But this new minimum wage only applies to those over the age of 25, excluding younger workers and creating a perverse incentive for bosses to hire and fire young staff before they become eligible for more money.
At the Phone Co-op we pay the full Living Wage to staff of all ages. But concern for wellbeing needn't stop at wages alone. We offer a number of other benefits including:
Work/Life balance: £100 paid towards the cost of any non-work related course, such as cookery classes or learning a language, to help staff improve the skills that matter to them
Bonuses: We don't have executive bonuses - if we do share a profit bonus, it's the same amount for everyone
Health: All permanent staff can reclaim the cost of dental, optical and other charges up to specified annual limits
In this spirit of fairness, we also believe in a low pay gap between the lowest and highest paid employee. Salaries of chief executives in Britain's FTSE 100 were an eye watering 183 times greater than the average UK worker last year, highlighting the chasm between shop floor staff and 'the one per cent'.
If chief executives' pay were reined in more, these companies would easily be able to absorb the costs of the National Living Wage, whilst maintaining their staff benefits and - who knows - perhaps even paying the real Living Wage. Like many co-operatives, we've ensured that the differential between the lowest and highest paid employee is under 1:5. This has led to a more tight-knit organisation, where every member of staff feels valued and connected to the rest of their colleagues.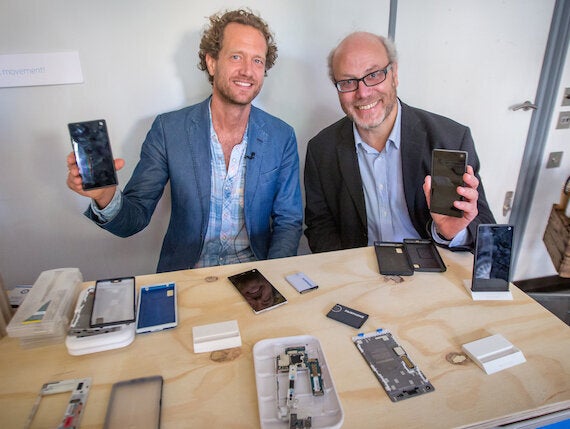 Promoting fair values towards our staff has also led to important collaborations with like-minded businesses. In 2014, we teamed up with Fairphone, an Amsterdam-based social enterprise, which produced the world's first ethical smartphone. Its work goes right to the heart of the technological supply chain, sourcing its metals in African countries from 'conflict free' mines that don't fund armed militia groups and help local people to prosper. With its latest handset, the Fairphone 2, it supports a worker welfare fund for factory staff in China and ensures manufacturers adhere to safe working laws.
More employers must take this sort of approach with their staff, prioritising benefits with the resources available. They'll have a workforce that is not only more productive but also motivated by more than just their take-home pay.
Related