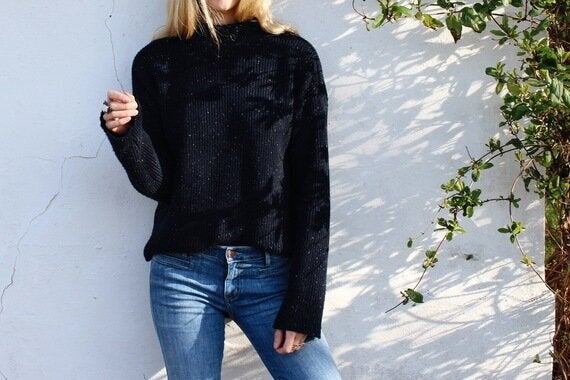 A few weeks ago I met the talented Alice Ashby, the brains and beauty behind sustainable knitwear brand Blake LDN, and felt so inspired by her vision, story and timeless sweaters and knitwear. She is a fearless conscious entrepreneur, and her distinctive and focused brand is fast becoming one of the UK's most wanted labels; underlying it all is a beautiful young woman with a strong sustainable ethos and passionate dedication. Knit by knit, Alice is filling the British fashion landscape with UK-made pieces designed to last forever. I caught up with her and am so happy and honoured to share her journey wisdom here.
How did Blake LDN come into being?
I studied knitwear at Central St Martins, then moved to NYC to work at Rag & Bone. When I came back to the UK I saw a gap in the market for well made, quality knitwear with more of a contemporary edge and Blake was born.
How do you go about the design process for a new collection? The pieces are so timeless, it feels very refreshing in a world of a thousand trends...
I often have an idea/theme/colour in my head initially, and this can come from absolutely anything - a gallery, magazine, nine times out of ten it comes from the most random things. I then see the yarns for the next season from all the main suppliers around the world at Pitti Filati in Florence (the main knitwear tradeshow) and then work with the textures or stitches and develop the ideas further until the collection is born! I am very much designing for myself as well, so each piece is very clean, understated and wearable but with a little twist.
Can you talk a little bit about your journey choosing UK factories?
Finding factories is one of the most challenging parts of running your own company. You will come up aganist high minimums, and as a small brand will not be top priority. There is a lot of knocking on doors for no return or reply early on; then you stumble across a couple of good ones who are willing to sample your collection and you are off! I also try go and see my factories each season, especially early on, and this is so important: it helps build the relationship and the people there know exactly who they are working with. I use two or three UK factories who have been with me from the beginning, who took a real gamble on me but who I respect and appreciate so much, and without them Blake would not be here.
What does sustainable style mean to you?
To me, it means knowing and appreciating the whole process of how your clothes have come to be in front of you. The materials, the people, the journey all need to be taken in to account. I'm not saying each designer/ label has to be 100% sustainable (I know there are a few though) but I think a little goes a long way.
I also think it is so much easier now for sustainable brands. People are taking them seriously and giving them the credit they deserve.
How do you stay sane under the demands of your job and all the stresses it can throw up?
Work-life balance is absolutely crucial. Yes, you will be working crazy hours and often weekends in the early stages, but it is so important to take time for yourself. I absolutely have to go spinning three times a week and do yoga, and this is my time where I don't think about Blake or anything. I always feel so much better, fitter and more healthy when I leave, and the problem I went in with always feels that little bit easier to deal with or manage. It is exoradinary how exercise helps. I also try and finish at a sensible hour these days and have weekends off (unless I am on a photoshoot or at fashion week etc). Your health has to be number 1, without that you and your business will fail.
I also read a lot of autobiographies on entrepreneurs and business people, both men and women. You often feel very lonely as an entrepreneur, and knowing that other people have experienced what you are going through helps - and if you are like me I can't get enough of reading other inspiring stories. One of my favourite quotes is from Galileo: "with every problem there is an opportunity". So often I have had to repeat this to myself when you think the world is falling and you have yet another set back, but turning situations in to a positive is key for survival.
Where would you like to see Blake LDN in five years?
My vision is to keep growing the brand, increasing our stockists, developing our website and gaining more momemtum in our pop-ups. I would love to develop a Men's line too - we get a lot of requests for this, so that is in the pipeline. I love the fact we are just a monobrand - doing one thing and (hopefully!) doing it really well, so customers trust us and come to us for really good quality pieces.
What are your favourite sustainable brands?
I like Matt & Nat bags, Tada and Toy jewellery, and obviously Reformation!
Where do you think the fashion industry is currently at in terms of opening up to a more conscious way of consuming?
There has been such an improvment in the last five years, it's amazing. Conscious labels are not seen as tree hugging brands but now have creditentials in their own right. We need to start talking about them on the same level though; sustainable should be the norm.
Which women do you admire?
I admire Jo Malone, Natalie Massenet and all my girlfriends who have started brands, each one of them pursing their own dreams and destiny.