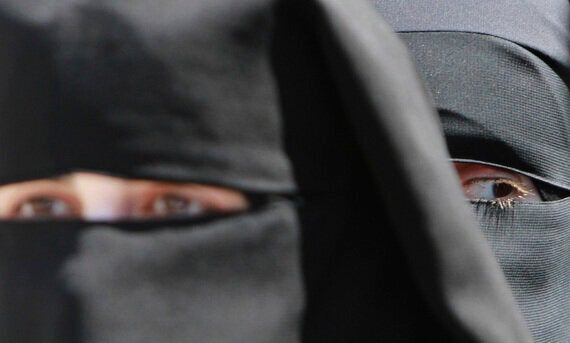 Earlier this week reports emerged regarding a woman in Paris forced to leave a theatre after the cast refused to perform in protest against her attire, she had a veil across her face.
Just read that again before you continue.
The incident happened three weeks ago but was reported by local press at the beginning of this week. Now, I'm not one to impose theatre wear, but for those who are, I didn't realise attire had the ability to halt a performance. The woman concerned was forced to leave a theatre performance, because of a thin piece of fabric and the offence it caused to performers on a stage.
With the sigh of relief that I experience that this wasn't in Britain, I feel ashamed for any Franc aware of what happened, but then I also feel ashamed for the laws that impose, allowed and encourage such gestures to take place. I mean it's not as though it was security that may have been doing their job in enforcing a certain aspect of dodgy law, but a group of creatives' seemingly present to please their audience. The niqab is illegal in France, I know this. But this racist, anti-Islamic, bigoted piece of legislation is what allows such abhorrent acts of intolerance to materialise.
The incident occurred during the performance of La Traviata at Opera Bastille in Paris whilst fashion week was in full force. Paris Fashion Week, the one everyone waits for, allows for creativity and beauty to take centre stage. This time round it came amidst the launch of the HeForShe campaign by actress Emma Watson which seemed to win the approval of the fashion circuit to the extent that a parade of models wearing little more than the banners and placards they were holding, walked down a Chanel catwalk.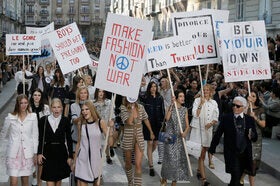 These models declared themselves feminists and the nation cheered whilst at this same period the city disgraced itself by bullying a female guest to the country because this woman decided it was her right to dress as she pleased. Degrading a woman by asking her to leave her seat if she refused to change her attire, the protest put up by the performers may be supported by laws in France but she clearly made it passed security and the door.
In 2011, the then president Nicolas Sarkozy defended the law banning the Niqab saying it was necessary to deny shoplifters and terrorists the chance to hide their identities and facial features. This law was upheld by the European Court of Human Rights earlier this year, but widely condemned by Human rights organisations. Amnesty international and Liberty have said that the Court was wrong - and that the ban does indeed curtail human rights.
This woman, is thought to have been from a Gulf State and visiting France. She may not have known she was seemingly breaking a law, but does it even make a difference? She was asked to remove the veil or leave the theatre as the performers declared "they didn't want to sing," were they afraid she wouldn't be able to hear? The indignity of this incident and the abhorrent abuse of rights of women leave me fuming from ear to ear as the narrative on women's rights seems to only suggest a protection for ones that fit into certain boxes.
Intolerance breeds intolerance and laws that allow bigotry and racism as though they were a part and parcel of society are exactly the thing that encourages such attitudes. When we look at injustices far and wide it's so easy to express distaste but we must look closer to home and deal with the injustices and attitudes that are being imposed. In Britain I can't envisage a situation as such, but it wasn't too long ago that a Muslim teenager was barred from starting her A-levels because she wished to wear a face veil at a school and it was around this time last year that London Fashion Week was shadowed by British Home office minister Jeremy Browne's comments on the niqab and I felt the need to write about it. Actions like these bring to question the real intention and sentiments towards women's rights in Europe. Rights need to be universal and dignify women of all beliefs not just those you agree with.