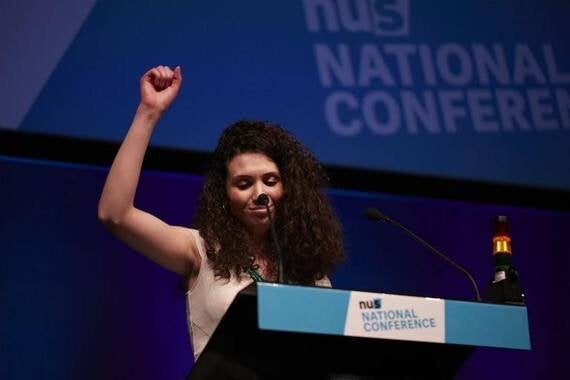 Wednesday saw a conference of over 800 elected voting delegates from universities and colleges throughout the UK elect Malia Bouattia as President of the National Union of Students. She is the first ever Black Muslim woman to be elected for the role of National President and her appointment has been met with somewhat of a mixed reception, to say the least.
Within minutes of the announcement being made, scores of attacks against Malia began to be released on social media and even some mainstream media outlets. The BBC led the news of Malia's appointment by describing her as "a student who previously rejected a motion condemning the so-called Islamic State". Rather than focus on the actual appointment of Malia as president, the first go-to remark was an attempt to baselessly argue that she in some way supportive of IS.
But what do these attacks really represent and what are the motives of such individuals for wanting to smear the new president of the NUS?
Well clearly there are segments of society that cannot stand to see individuals from minority backgrounds succeed and be in positions of power and influence. The fear tactics being used to cloud the positive contributions made by Malia in her work as Black Students Officer at the NUS are indicative of the discomfort caused to some that a Black Muslim person was able to win such an election. It is truly remarkable that the very institutional barriers and treatment of BME students Malia has spent last two years exposing and campaigning against are being used to discredit her clear victory.
Why is it as soon as Malia was elected that rather than celebrating and highlighting the fantastic work she has done in tackling the BME attainment gap, campaigning against the deportation of international students and calling for liberation of the education system, the focus seems to be on misconstrued allegations and baseless slander?
Why is it as soon as Malia was elected a handful of unions choose to share their dismay at the NUS and its failings to represent students? I doubt these issues appeared out of thin air, would these issues been highlighted had the incumbent been re-elected, I very much doubt that. If this doesn't prove the reality of racism and Islamophobia on our campuses what will. We need to address these issues immediately, which is why I believe Malia's election was so important as she is one of the few people I trust to actually tackle these underlying issues instead of paying lip service as many have before.
My best wishes go out to Malia, and I only wish goodness for her in this new challenge ahead. Let your goals and ambitions direct you, not the white noise of those who oppose progress. The road ahead may be bumpy but never let your detractors make you lose focus of the path you have chosen to tread upon. I for one can't wait to see what you achieve.
Solidarity and Salaam (peace be upon you).