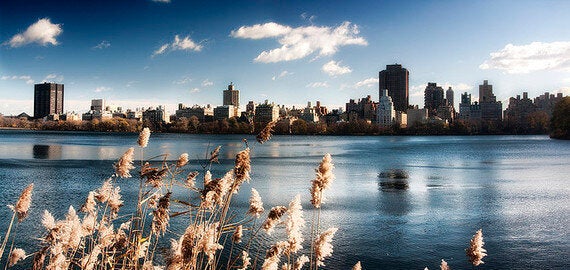 New York is known as a city of dreams, a city of wealth and a city of ambition. So what better place to go for a luxury break? Here are the highlights from my recent trip there.
The Regency Bar and Grill (540 Park Avenue, New York, NY 10065): I had the most ultra-indulgent and ultra-delicious meal at The Regency Bar and Grill, just adjacent to my hotel. Their extravagant fine drinking and fine dining is truly global--I was impressed to find wines I'd only sampled in their homes of Croatia and Slovenia on their drinks list. On the food side, they have everything from octopus to enormous steaks to dainty, delectable salads. I absolutely loved the Spiced Long Island Duck Breast.
Burger Heaven (804 Lexington Avenue, New York, NY 10065): The United States is well known for its burgers, and Burger Heaven will make you believe all the hype and then some. Though the physical surroundings are modest and diner-like, the food is absolutely top-notch and the staff super friendly. Grab yourself a Burger Heaven Burger: flame-broiled prime beef, caramelised red onions, homemade slaw, salad and house special sauce.
Persepolis (1407 2nd Ave, New York, NY 10021): Being half-Iranian, I have a huge soft spot for visiting Persian restaurants wherever I am in the world. It takes much more than a dinner to make me write about it though--nobody can beat my auntie's incredible cooking--but this spot is just a must-visit for anyone who loves Middle Eastern Cuisine. Be sure to try to the Ghormeh Sabzi. And just about everything else.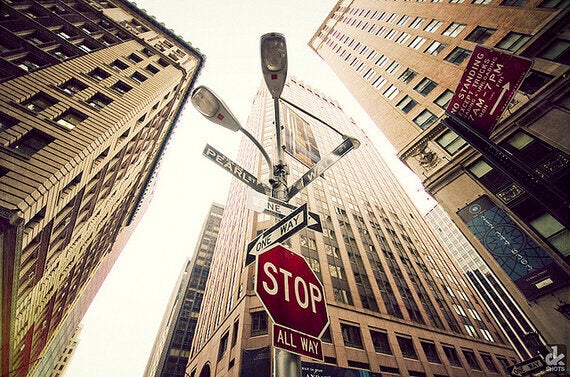 It's all about where you stay in Manhattan, and if you want to feel like you're in the middle of things, there's surely no better place to be than Park Avenue--one of the city's best known streets (as an aside, do check out the now defunct TV series 666 Park Avenue for some supernatural New York City goodness--it's what made me want to stay on this street).
I stayed at the Loews Regency Hotel (540 Park Avenue & 61st Street, New York, NY, 10065) in a Luxury King room which had a private balcony, a flat-screen TV, a work desk, a docking station and one of the most comfortable beds I'd ever slept in. There were some lovely little touches like complimentary daily newspapers and free morning coffee in the lobby too.
But my favourite part of the whole hotel, had to be the Julien Farel spa--I indulged in a facial and pedicure (done at the same time, those Americans know how to be productive!) and the treatments left me feeling perfectly relaxed and refreshed for the flight home.
Away from the bustle of Manhattan itself, New York has lots of interesting boroughs. I didn't know where to start in exploring them, and I'm not a fan of dragging heavy guidebooks around or using apps on my phone. It was perfect, then, to come across Herb Lester's bar guide to Brooklyn and foodie guide to Queens--both pocket-sized and inexpensive at £4 a pop. Brooklyn and Queens are just a few subway stops away from Manhattan, and they're awesome places to get a more local feel in NYC.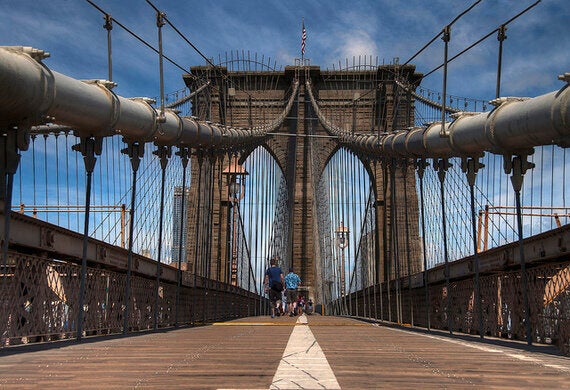 I flew to New York with KLM from Norwich (via Amsterdam), and got lounge access at Schiphol Airport during a lengthy layover so I could grab a shower, a drink, some snacks and reading material. The flights were great (the selections of food, films and drinks were all good, and that's enough to keep me happy) and we landed early both ways.
I recommend checking out which airlines fly from your home city in the UK--it's easier and cheaper to get flight connections than you might think. If I'd flown from London Heathrow to New York, the cheapest option was £600 return. Flying from Norwich saved me almost £200 on that price, and saved me the cost and hassle of travelling to London for an early morning flight.