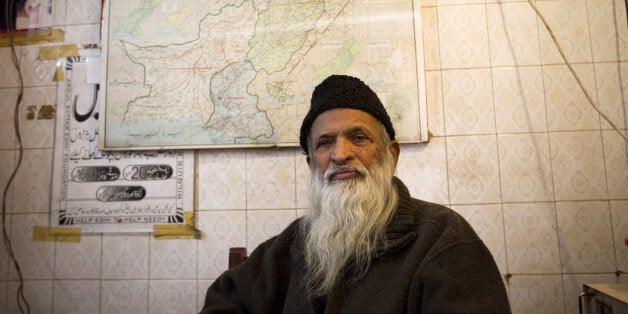 When my daughter Malala won the Nobel Peace Prize in 2014 my pride was immeasurable. The award has elevated the profile and importance of education for every girl and every child globally. This year, I believe Abdul Sattar Edhi - one of the greatest humanitarians of our time - deserves such an honour. He is one man who has turned his childhood vision into a living reality for millions of underprivileged people in Pakistan. That is why I have started a petition on Change.org - my daughter Malala was the first to sign it - urging world leaders to nominate such an outstanding man.
Many people will not know Edhi's remarkable story - Edhi grew up in poverty and today he owns just two pairs of clothes and still lives in the slum he has called home since childhood. But from here he has established the largest health and welfare system in the developing world, providing healthcare to millions of people across Pakistan and has helped thousands more around the world.
When Edhi was just a teenager, a flu epidemic broke out in his town killing many. He collected donations and set up a tented hospital. From there he continued, taking small donations from thousands of people - and using it for good.
Edhi now runs a fleet of over 1,800 ambulances driven by an army of 18,000 volunteer drivers that bring emergency aid to people across the country. It is said to be one of the world's largest volunteer led ambulance services. Edhi's ambulances are now a famous sight in Pakistan - often heading to dangerous places where others fear to go. He has trained thousands of doctors and equipped medical centres across the country.
In a country where terrorism, poverty, natural disasters are a regular phenomenon, the Edhi Foundation's help is often life-saving. Just this month Edhi volunteers rushed to help those hurt in violent attack carried out by the Taliban on Bacha Khan University. The Edhi Foundation also gives shelter to orphaned children and the destitute, free medical care, drug rehabilitation services and disaster relief.
Edhi treats all regardless of wealth, gender, class or religion. Over the years the Edhi Foundation's efforts have extended to providing relief missions world over including the Lebanon civil war in 1993 to Hurricane Katrina in 2005.
Edhi's rise is a phenomenal one, perhaps one which would be more suited to the silver screen of a blockbuster movie, not one on par with the lived reality of one person who has single handily clawed his way from begging on street corners in the sprawling metropolis of Karachi to achieve some incredible acts of selflessness.
I was in middle school when I first heard of Edhi, now 88. For me and millions of youth growing up in 1980's Pakistan he was the hope we clung onto amidst the chaos of military coups, strikes and operations.
Many philanthropists get rich before beginning the charitable act of giving. Edhi was born with the most richest and giving heart. With the passage of time heroes I once heard or read about have faded away and remain but a memory in my mind. There are a few whose legacy will live on for generations, Ghandi the leader, Jinnah the statesman, Bacha Khan the reformer, and Mother Theresa the healer. It's a rarity to find someone in our lifetime who stands shoulder to shoulder with these giants. Edhi does.
Edhi not only epitomises the very creation of the Nobel Peace Prize based upon Sir Alfred Nobel's principles of social activism through peaceful means, he is a shining example of how sheer fortitude can create a legacy of real change.
I hope his story is heard loudly when the nominations for the 2016 peace prize draw to a close in the coming weeks. In these bleak times whereby we are deluged with humanitarian crisis after crisis, the world can learn much from Edhi's simple yet profoundly illuminating code of conduct - 'live and help live'.
Ziauddin Yousafzai is father of the youngest ever Nobel Peace Prize laureate, Malala Yousafzai, Advisor to the UN Special Envoy on Education and global education activist