Gary Glitter sexually assaulted a 13-year-old girl in Jimmy Savile's dressing room as the TV presenter groped another girl aged 14, according to a woman who claims to have witnessed the abuse in the 1970s.
Karin Ward also asserts that a third well-known 80s TV entertainer, whose identity was not disclosed, was also present and tried to assault her.
She said: "I rebuffed him and he humiliated me in front of everyone in the dressing room by saying something really unkind about my lack of breasts, which to a 14-year-old girl was just awful.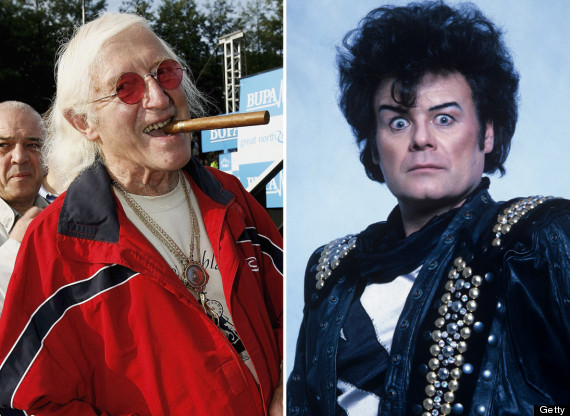 Firm friends: Sir Jimmy Savile and Gary Glitter
"I was appalled and really, really upset."
Ward made the claims in an ITV documentary aired last night. Although she identified the third man, ITV was forced to edit out his name as he is still alive and has disputed the claim.
Ward added: "Jimmy Savile had a girl on his lap and his hand up her skirt and inside her underwear. She came from Duncroft and was 14.
"The girl Gary Glitter was having sex with also came from Duncroft. I think she might have been not quite 14."
"I didn't see it completely but that's what was going on and nobody batted an eyelid. I also told them I was horribly, horribly humiliated.
Gary Glitter, a convicted paedophile, has reportedly denied the claims.
SEE ALSO:
Despite Glitter's conviction for watching child pornography, Savile appeared to defend him in 2009 when he said he had done nothing wrong and was "just sat at home watching some dodgy films".
Ward also claims that Savile himself tried to abuse her. She said: "Jimmy Savile used to come to Duncroft. He used to take us girls out. We loved it when he was here.
"Everybody knew he was a perv and everybody knew he would be groping and wanting sex and wanting other worse things than just plain sex but he brought lots of nice things with him.
"We got nice food when Jimmy was coming. He used to bring a thousand cigarettes with him and cigarettes were the currency in that kind of environment so girls just flocked around him.
"He brought sweeties. Sometimes he bought perfume, he brought make-up.
"A lot of things were duty free. He lavished gifts on everybody and was all jolly and then he wanted people to come out with him for a ride in his car."
A number of women have come forward with similar claims which have been brought to the attention of police.
A Scotland Yard spokesman said: "We can confirm that we have received a small number of allegations which are currently being assessed but we are not discussing it any further."