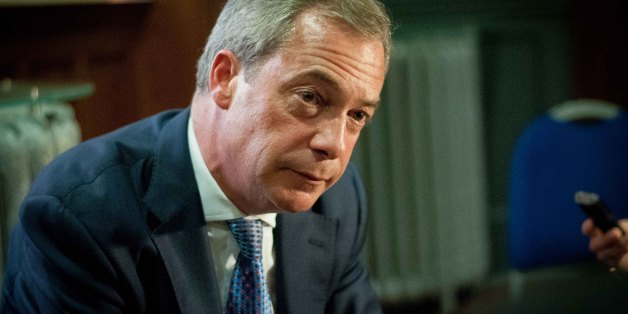 If there is one thing us Brits do well, it's sarcasm. So, it's not surprising that the internet has united to unceremoniously hijack the hashtag #WhyImVotingUkip.
Nigel Farage and co. appeared to be very popular on Twitter Wednesday morning, with multitudes taking to their keyboards to voice why they would be voting for the Eurosceptic party.
But upon closer inspection, social media users didn't appear to be explaining too seriously why Ukip have the edge over other parties.
It does appear the hashtag was intended to promote the party, with those posting early on seemingly keeping a more serious tone.
Why are you voting UKIP this year? Tell us, tell Twitter and let's get it trending! #WhyImVotingUkip
But it rapidly descended into farce and, a day before the European elections, the Twitter trend has spectacularly backfired on the party.
Here's our pick of the best:
#WhyImVotingUkip Because I'm fed-up of foreigners coming over & denying hard-working British people the right to be Nigel Farage's wife.
#WhyImVotingUkip Because the weather's really starting to pick up, and I don't want it ruined by gays.
#WhyImVotingUkip because an Oriental gentleman just pushed into the front of the bus queue and got on first
#WhyImVotingUkip I heard an African American and 2 (gay?) French robots on the radio telling me to "get lucky". Now I'm scared to go outside
#WhyImVotingUkip Because I hate all that foreign muck. I like good British food, like curry and Chinese
#WhyImVotingUkip because I'm pretty sure Nigel Farage is actually a Sasha Baron Cohen spoof character and I'd like to see this play out.
#WhyImVotingUkip Spanish dominance in the European Champions League means I don't want to be a part of it
#WhyImVotingUkip because Boss man put a 69p price sticker over the original 49p for a can of KA
#WhyImVotingUkip Because I hear Pole dancers are undercutting our home-grown British dancers. Disgusting!
#WhyImVotingUkip because I find spelling foreign surnames daunting and difficult
SEE ALSO:
SUBSCRIBE TO & FOLLOW UK DAILY BRIEF