Paul Daniels and Debbie McGee have revealed they plan to give 'Celebrity Big Brother' viewers a visual treat, by suggesting they would have sex in the 'CBB' house.
And you thought Lionel Blair in Spandex was bad…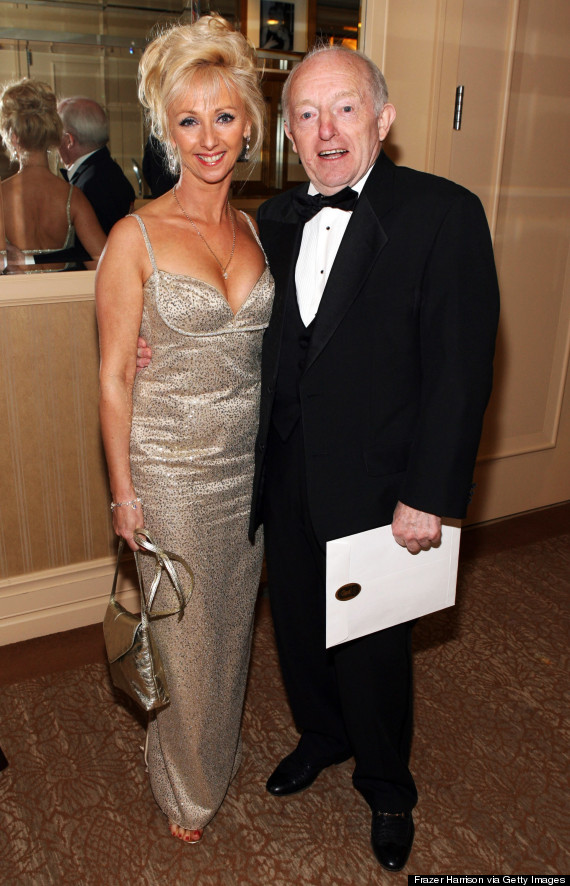 Paul Daniels and Debbie McGee
The married pair have hinted that Paul won't be letting his advancing years stop him from showing Debbie a "magic" time in the 'CBB' bedroom, after she told The Sun: "I couldn't possibly reveal what we've got planned for the Big Brother bedroom - that would spoil the surprise.
"All I will say is that we're still very much in love."
The most recent series of 'CBB' proved to be the raciest ever, with Lee Ryan and Jasmine Waltz disappearing into the bathroom together for some mystery fan, which was described by Jim Davidson as "sounding like he was whisking an omelette".
Luisa Zissman and Dappy also gave viewers a shock with their antics.
Meanwhile, Kimberly and Steven made headlines on the current series of 'Big Brother' after they were seen having full sex in the house on several occasions - including one bone-chilling moment when he was heard whispering "open it" in the throes of passion - with the rest of the housemates sleeping in their beds around them.
Paul and Debbie have also revealed their 'CBB' survival tactics, with the TV magician claiming he is at an advantage having his wife with him in the house.
He explained: "We can stick together. Then it doesn't matter what anyone thinks of what we're doing."
It's not yet been confirmed which stars will be arriving in the Borehamwood bungalow when 'CBB' returns on Monday night, Kelly Brook's muscleman fiancé David McIntosh, 'Benefits Street' resident White Dee and former 'TOWIE' cast member Lauren Goodger are all among the rumoured contestants.
Celebrity Big Brother 2015: Rumoured Contestants...
Rumour has it Gemma initially turned down an appearance on this summer's 'CBB', but did a 180 when she was temporarily suspended from 'TOWIE', but has reportedly said she'll only go in the house if she's given a six-figure sum to do so.

However, Gemma might have some competition from one of her 'TOWIE' co-stars, who has also reportedly been offered a spot in the house, in a bid to rebuild his public profile.

Janice was the first celebrity to be rumoured for the 2015 summer series of 'CBB', reportedly scooping a cool £300,000 to take part.

The rapper - who topped the UK singles chart in 2003 with 'Be Faithful' - is rumoured to be one of the seven American housemates heading into the 'CBB' residence this summer.

The 'Mob Wives' star reportedly had to pull out of the upcoming series, after undergoing surgery for throat cancer.

Fingers crossed he's brought those shorts...

The Daily Star have claimed that, after trying to get Keeley on board for the past few years, this will be the year she finally enters the 'CBB' house.

Eamonn has admitted that his wife, Ruth Langsford, has forbidden him from going on 'CBB', because she doesn't want the whole country to see him in his pants. Ruth... we owe you one.

Sadly, Dina was quick to deny rumours that she was in talks with Channel 5 to join the show.

Oh dear. Oh dear oh dear oh dear.

'Teen Mom' turned adult film star, producers have reportedly roped in Farrah to "sex up" the 'CBB' house.

The Hoff recently admitted he had no desire to take part in 'CBB', claiming reality shows in that vain tend to exploit the celebs who take part.

The model-turned-singer-turned-reality-star-turned-socialite-turned-whatever-she's-flogging-that-week could be about to become the most extreme housemate in 'CBB' history.

A source recently told The Mirror: "Hulk is a big name. He's known for being opinionated."

Sadly, Andrea recently insisted she wouldn't be following in the footsteps of her 'Loose Women' co-presenters Nadia Sawalha, Coleen Nolan, Denise Welch and Carol McGiffin, telling Digital Spy: "I'd be so boring that they wouldn't get their money's worth."

Incredible.

No we've never heard of her either, but when someone as Z-list as Draya is tipped for 'CBB', the chances are you can count on her being in the house.

No it's not David Gandy, silly! Gaffers has been named by William Hill as one of their top choices to appear in the next series, with odds of 2/1.

After splitting from MP husband Simon Danczuk, Karen, 'queen of selfies', has been tipped to appear in the house, with Ladbrokes naming her among their top picks.

Please, please, yes!

Yeah, alright, so the chances of Holly actually becoming a housemate are pretty slim - but she did recently say she'd like to appear on the series as a guest. Fingers crossed!