Here at HuffPost UK, we're big believers that every now and then, a digital detox really helps us to de-stress and get more sleep.
But it turns out switching off digital devices is actually easier said than done.
A new poll has found the majority of people would find social media the hardest thing to give up, with Twitter and Facebook being labelled as more addictive than smoking.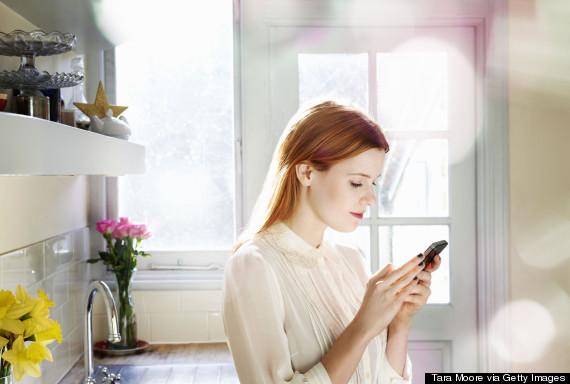 The study by retailer ECigaretteDirect.co.uk quizzed more than 700 people about aspects of modern life they would struggle to quit.

Social networking sites came top of the list scoring almost a quarter (24%) of the vote.
Although it's not a large group of people polled, the results are not all that surprising considering that another recent study revealed the majority of British adults feel they are "constantly looking at a screen."
Blogging on HuffPost Inspiration, Martin O'Leary says our technology addiction is causing us to miss out on real life.
"We spend so much of our life distracting ourselves from the reality of the present moment; going to the cinema, watching sport, devouring box sets, staring at our phones while trawling through social media feeds, we forget to exist in the present moment.
"Digital overload eats in to my time like an acid - but the cure is "self-discipline". To start, instead of my phone controlling me, I will turn off all alerts as these are nearly impossible to resist," he writes.
SEE ALSO:

Five Things That Happen When You Take a Break From Your Mobile Phone
Another HuffPost Inspiration blogger, James R. Marsh, agrees that our reliance on technology is getting out of hand.
"The line between physical and virtual reality is becoming more and more thin with complicated and somewhat unknowable consequences.
"But clearly, we all need some digital detox from time to time, if only to realise what we've missed and how far we must go to truly understand ourselves and the new world around us," he writes.
In the survey, struggling to give up social media was closely followed by feeling addicted to swearing, with 18% of respondents confessing that using bad language would be the hardest thing for them to give up.

Caffeine, smoking and TV also proved difficult to quit.
One man who took part in the study commented: "I think I would go mad if I had to give up Twitter and Facebook.

"I'd be left constantly worried that I'd be missing out on stuff which my mates are doing. That, and I'd be out of the loop when it comes to all the gossip."

Here's the full results:

1. Twitter and Facebook – 24%
2. Swearing – 18%
3. Caffeine – 15%
4. Smoking – 11%
5. Reality TV – 9%
6. Biting fingernails – 8%
7. Chocolate – 7%
8. Picking nose – 4%
9. Speaking with mouth full – 3%
10. Cracking knuckles – 1%
Unplug And Relax At These Digital Detox Retreats
The gold standard of detox retreats, Canyon Ranch has become synonymous with relaxation, rejuvenation and total luxury. The all-inclusive health resort and luxury spa caters to the rich and famous, offering the best in healthy cuisine, spa servies, body work, fitness activities, and spirituality and meditation facilites. The resort also offers educational opportunities to help you make a long-lasting commitment to healthy living. One-week all-inclusive stays start at $11,740 per person.

The Digital Detox (whose company motto is "disconnect to reconnect") offers regular tech-free getaways to the peaceful Shambhala Ranch Retreat in the Mendocino hills of Northern California. The restorative trip includes yoga, meditation, hiking, art, and organic cuisine -- no devices allowed. The intimate retreat is open to a maximum of 14 guests, who stay in luxurious private rooms in the large ranch-style lodge. Four-day stays range from $500-950.

The small Caribbean island group of St. Vincent and the Grenadines is encouraging travelers to leave their gadgets at home when they come to enjoy the tropical beauty of the island on their vacation. The islands offer a digital detox vacation package, complete with a tech-free travel guidebook and life coach who will guide you in learning not to let technology control your life.

Experience the beauty of nature and the tranquility of a technology-free existence, try this 12-day African retreat from Jacada Travel. The group trip starts with a safari on the Selous Game Reserve -- one of the largest faunal reserves in the world, and ends with some R&R on the stunning beaches of Mozambique. And of course, enjoy spa treatments and yoga for extra de-stressing. 12-day packages from $12,248 per person.

With luxury yoga retreats in Costa Rica, Sayulita, Mexico, and Todos Santos, Mexico through the year, Via Yoga offers the ultimate wellness retreat and digital detox package. Although you don't have to give up your gadgets, yoga retreat attendees who turn in their iPhones upon arrival receive a 15 percent discount. In addition to beachside yoga, pilates and meditation classes, guests can also enjoy surfing and outdoor activities. Retreat rates start at $2,395 per person.

On the shores of Lake Placid, surrounded by the Adirondack Mountains, the rustic yet luxurious Lake Placid Lodge is the perfect place to escape the distractions of everyday life. With the "Check-In to Check-Out" package, you can check in your devices upon arrival and use the rest of your trip to enjoy the beautiful natural scenery, outdoor activities, and the hotel's many amenities. Private cabins start at $375 per night.

Dublin may be a major metropolitan city, but that doesn't mean you can't do a little unplugging on your next trip to Ireland. The luxurious, five-star Westin Dublin's digital detox package includes breakfast in bed, in-room massage, detox survival kit, and a safe to lock your gadgets away in, so that you can enjoy tranquility and peace in the heart of downtown Dublin. Rates start at $227 per person per night.

Head down to tropical Costa Rica to get away from the business of your everyday life and enjoy a little R&R. The retreat takes travelers through the Cloud Forests and then on to the beaches of the Nicoya Peninsula. All-inclusive 10-day packages from $5,957 per person.

This summer camp for adults promises visitors a chance to get back to childhood -- with campire songs instead of YouTube videos and board games instead of Angry Birds, The Digital Detox's "Camp Grounded" is all about technology-free summer fun. This June, 200 grown-up campers will unplug for four days of outdoor activities and nostalgia in the California redwoods. Four-day stays start at $340 per person.

This luxury Moroccan getaway for women comes with everything you could want in a wellness getaway: Yoga, meditation, spa treatments, organic fine dining, a gorgeous setting and poolside lounging. Harem Escape describes itself as an "oriental paradise where [guests] are encouraged to leave behind the stresses of the world" -- and it's undoubtedly the perfect place for stress relief. The intimate property (it contains just nine rooms) is nestled on 24 acres of desert grounds just outside the vibrant city of Marrakech. All-inclusive prices start at $545 per person per night.

The Farm at San Benito, a Batangas resort, prides itself on offering top-notch holistic healing services in a stunning island setting. It's easy to see why it was rated the "Best Medical Wellness Resort in the World" by SENSES Germany: Luxurious facilities are surrounded by beautiful jungles, gardens and pools. Try the five-day detox cleanse package, a supervised nutritional and therapeutic program, for intensive stress relief and a kick-start to a healthier lifestyle. The four-night, five-day detox cleanse starts at $1,925 per person.

The Island Experience is an unusual health and adventure program where guests can get healthy and relieve stress on the beautiful island oasis of Ilha Grande, off the coast of Brazil. The seven-day program is a combination of adventure spa, yoga retreat and fitness vacation program, designed to "detox your body and de-stress your mind." Contact for pricing information.

Detoxify your mind, body and spirit while surrounded by the natural beauty of the Eastern Townships at Spa Eastman, a Nordic-style luxury spa in the Quebec countryside. Visitors can enjoy the therapeutic benefits of thermotherapy at Eastman-les-bains, as well as traditional spa treatments, gourmet health food, and outdoor activities. Try the Health & Wellness Immersion package -- which includes meetings with a nutritionist and kinesiologist -- for a total detox experience. The seven-night Health & Wellness Immersion package starts at $2,065 per person.

A luxury hotel and spa in the foothills of the Himalayas just might be the perfect place to recharge your health and lower your stress levels. At Ananda In The Himalayas, guests can spend their days practicing yoga and meditation, eating organic health food, and exploring the tranquil forests surrounding restored Viceregal Palace. Try the yogic detox or stress management package for a wellness immersion. The seven-day stress management package starts at $550 per person per night.

Detox and de-stress in "Downton Abbey" style at the luxurious Coworth Park Hotel & Spa, which offers an array of health and wellness services as well as traditional English rituals like afternoon tea and horseback riding. The spa at the five-star luxury hotel was rated the #1 hotel spa in the UK by Conde Nast Traveler. Although the hotel doesn't offer extended detox packages, you can easily create your own wellness getaway with a combination of spa treatments (try the Spring Clean Spa Day Detox), healthy meals and walks in the garden. Double rooms start around $468 per night.

This well-known Byron Bay wellness retreat center, co-owned by Olivia Newton-John, has hosted celebrities like Oprah for detoxing getaways. Guests stay in luxurious bungalows set in the subtropical forests of bungalow bay, while enjoying spa services, yoga and meditation, naturopathy sessions and organic cuisine. Try the five-night refresh package or the seven-night restore package for total pampering. Five-night refresh retreats start at $3,273 per person.