Tom Lehrer famously said that political satire became obsolete when Henry Kissinger was awarded the Nobel Peace Prize. We think the 2014 version of this might have just taken place...
Nobody on Twitter is going to write a funnier joke than Tony Blair being named Philanthropist of the Year.
Here was the former Prime Minister receiving his prize at the GQ Men Of The Year Awards on Tuesday night: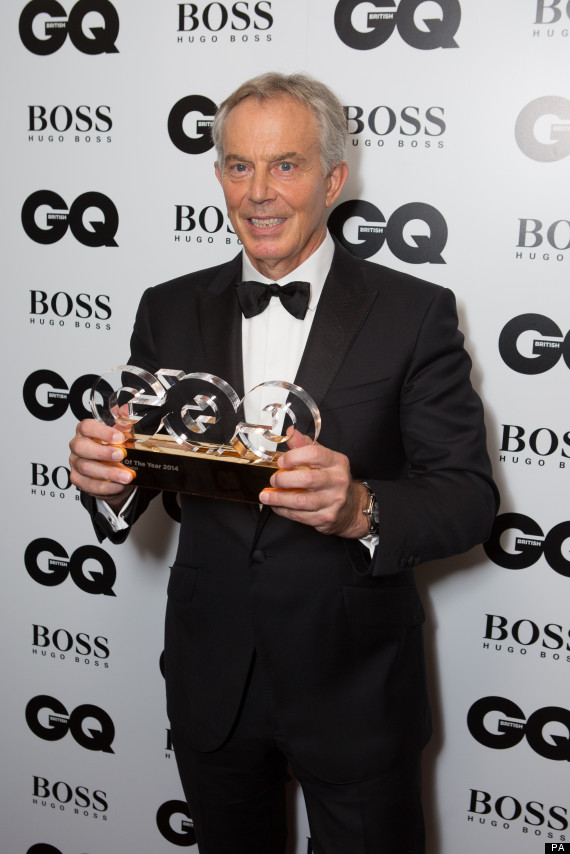 And as one tweeter put it:
Yes, if any appearance by Tony Blair is a red rag to a Twitter bull, then Tony Blair picking up a philanthropy award is a red rag to a Twitter bull that's calling bulls***.
The GQ Men of the Year Awards are happening, and the year appears to be 1997 or thereabouts.
SEE ALSO:
Tony Blair's winning Philanthropist of the Year? Shut up, GQ, you're drunk and not funny.
The irony was not, of course, lost on people. Not even Gary Lineker:
Apparently, Tony Blair has won GQ's philanthropist of the year award. Finally these awards have grasped irony!
While most tweeters were simply incredulous:
Did I miss a memo? When did "Philanthropist" change it's meaning to "Warmongering c***"?
#GQAwards #tonyblair
Tony Blair Philanthropist of the Year. What next, Jihadi John to stand for UKIP because he proves their point so well?
And it wasn't limited to these shores:
Blair's award led many to speculate about the evening's other potential recipients:
#GQAwards predictions
Best Nigel Farage - Nigel Farage
Best Woman - Toby Young
Best Musician - Simon Cowell
Most Self-Aware Magazine - GQ
Congratulations to Tony Blair on winning 'Philanthropist of the Year' at GQ Awards. Next up, Jeremy Clarkson wins 'Diversity Champion 2014'.
Other #GQAwards of the year: Pacifist: Vladimir Putin, Theologist: Richard Dawkins, Feminist: Cee Lo Green, Samaritan: Louise Mensch.
#GQAwards Tony Blair wins Philanthropist of the Year. Other awards: Putin gets Pacifist of the Year; Jeremy Clarkson Lifetime Feminist Award
Tony Blair won GQ's Philanthropist of the Year, narrowly beating Vladimir Putin, Gary Barlow and a colony of wasps.
(Or, indeed, next year's winners.)
After Tony Blair's philanthropy award, I'm hopeful of winning GQ's 'African American Woman Of The Year' in 2015.
And also to speculate about GQ's motives:
Did GQ just take trolling to a new level? #TonyBlair
so Tony Blair won philanthropist of the year and Kim kardashian won woman of the year? did you do this for bants @BritishGQ
Gosh, it's almost as if GQ knew by giving Tony Blair that award they'd trend on Twitter for the next two days...
But what was Blair's award for? There were theories...
Tony Blair's very philanthropic, he donated all those cluster bombs to Iraqi kids.
Stop knocking Tony Blair for his award! He is a philanthropist. Look at all the bombs he donated onto all those innocent Iraqis. #GQAwards
Though some were unhappy that it was hiding the achievements of others:
But maybe it had all been a dream...
I had the funniest dream in which Tony Blair got a Humanitarian of the Year award!
@DanRebellato He got Philanthropist. Ringo Starr got Humanitarian Of The Year. I'm not making this up. #gqawards
Or just a simple mistake?
GQ Men Of The Year Awards 2014
More GQ Men Of The Year Awards:
SUBSCRIBE TO & FOLLOW UK COMEDY