Tesco is to become the first British supermarket to launch a bold new scheme to donate leftover food to charity, as their CEO admitted they were "not comfortable" about throwing away thousands of tonnes of food every year which could have been eaten by people in need.
Company chief Dave Lewis told The Huffington Post UK: "A number of years ago we identified that food waste was an issue for our business. "
Despite taking some measures to prevent food waste, Lewis said the company "didn't feel good about" the fact that the fluctuating demand for different food in supermarkets meant "you're left with food that passes its sell-by date but is still perfectly good for human consumption."
"This was something we didn't feel comfortable about."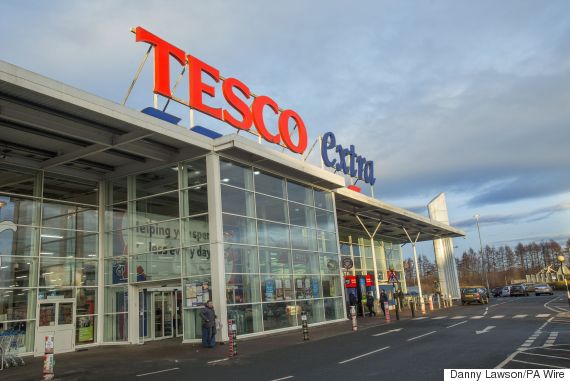 Tesco is launching a new scheme to avoid leftover food being thrown away
New figures published by Tesco recently revealed that the company threw away 55,400 tonnes of food over the last year - around 30,000 tonnes of which was perfectly edible.
Lewis said that changeable British weather was one reason for the waste: "Despite everything that has been happening in the supply chain - and there is a lot - when you get to a store, just by the vagaries of weather, you may have thought that you need X amount of strawberries or salad, and then the weather turns and it's not bought by customers."
After several years of partnering with organisations to reduce their waste, the company is now trialling a new way of making sure any food left over at the end of the day can be taken free-of-charge by charities, through an app that alerts Tesco staff to nearby charities that need food. Beforehand, the food would likely have been needlessly destroyed.
SEE ALSO:
The move is similar - though less radical - to France's decision last month to make it illegal for large supermarkets to throw away edible food.
Alluding to the business troubles plaguing Tesco, including an accounting scandal and one of the biggest losses in corporate history posted in April, Lewis added: "This is not something which is a response to short term other news in our business.
"We know that this is the right thing for us to be doing.
"We think that we have found a sustainable responsible way of eliminating waste in our business that could be safely consumed and we're going after it.
"Who would want to throw away food that people could eat when you know that there are people out there who actually for whatever reason unfortunately are not in a position to do that?
"Everybody wins here if we get it right."
Lewis explained what usually happens to food past its sell-by date: "In the past once that [food] got past the display date, you had no choice but to put it into the waste system.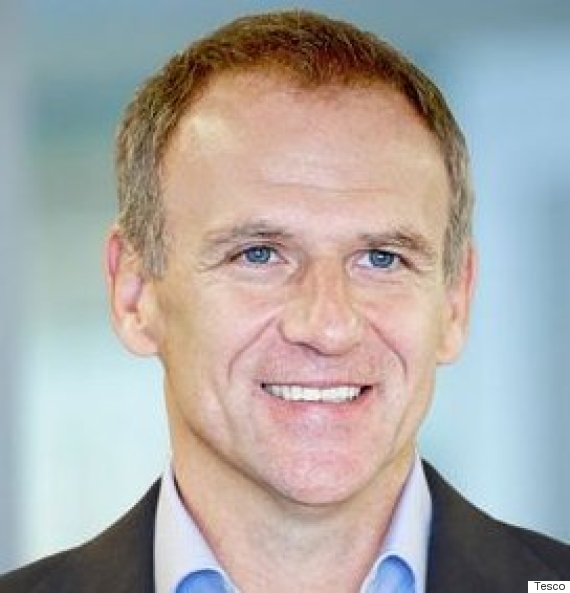 Tesco's CEO Dave Lewis said Tesco is keen to cut down on the leftover food it puts into the waste system
"Depending what the composition of the waste was, if it is possible for it to be used as animal feed then it would be, but ultimately, if there's no way of reusing it for anything else then it is pure waste.
"In the UK, depending on which region you're in, [it is] either used as incineration as energy. it's local authorities who would dispose of it. It's waste."
"We wanted to avoid that."
The scheme will be run through an app which allows Tesco store managers to alert nearby charities what surplus food they have and how much of it is avalaible at the end of the day.
Tesco will partner with UK food redistribution charity FareShare, and Irish social enterprise FoodCloud to trial the FareShare FoodCloud app in the UK.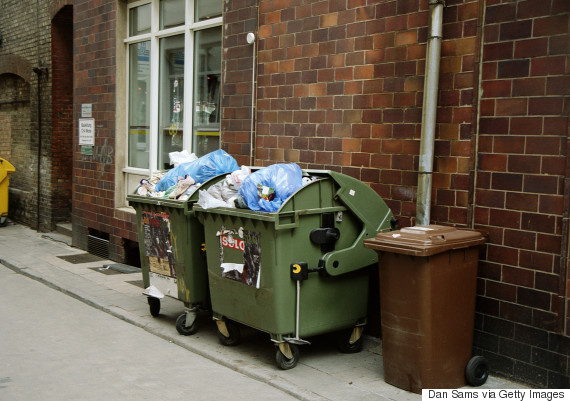 Tesco is trying to cut down on the amount of food waste it produces
Charities, including homeless hostels, women's refuges and disadvantaged children's breakfast clubs, will then be able to confirm what food they would like and pick it up for free.
FareShare will also help support the charities to ensure that surplus food is used safely for those who need it.
The scheme will be piloted in 10 Tesco stores around the UK and is already in place in two stories in Ireland.
At least half a million Britons are estimated to have used a food bank last year, figures which campaigners suggest indicate rising levels of poverty since the recession.
Not true, say The Trussell Trust. They work with dieticians to design a nutritionally balanced food parcel, but crucially using non-perishable items that can last, unlike American food banks that giver users any old near-dated surplus food.

This was the argument used by millionaire Lord Freud in the House of Lords. But "people can't just turn up asking for free food, they are referred by professionals"" says Chris Mould, executive chair of the Trust. If someone turns up without a voucher, food bank staff put them in touch with relevant local agencies who can assess whether they need a voucher and signpost them to the right services.

This is the defence that Cameron has oft used in Prime Minister's Questions. The number of people receiving emergency food is disproportionate to the number of new foodbanks opening: last year numbers helped by foodbanks increased by 170% whilst there was only a 76% increase in new foodbanks opening.

Again, this is a common Tory refrain, and one recently examined in the Spectator. Foodbanks obviously don't dispute the first part but they are 'deeply concerned' by the growing numbers who are needing them. And many politicians are horrified. "If you had told be at the beginning of my political career that I'd be addressing this kind of problem when I was coming to the end of my career, I'd have been gobsmacked," government poverty tsar Frank Field MP has said.

Over 50% of children living in poverty in the UK are from working households and many of the people helped by foodbanks are in work, with the rising cost of living combined with no rise in wages causing many to hit a crisis where they can't afford to eat.

This was a refrain heard regularly last week as it emerged Tesco throws away two-thirds of its bagged salad. Firstly, small local food banks often cannot cope with storing perishables. And the Trussell Trust doesn't believe in giving people sub-standard, out-of-date food "simply because they are poor," Mould says. Charity FareShare does work to redistribute surplus food from supermarkets and manufacturers to local charities.

The Trussell Trust receives no government funding and foodbanks are not part of the welfare state. In fact, their foodbanks are advised by head office against entering into contractual agreements with local authorities.

This is the Department of Work and Pensions line. But this has been possible since 2011, so would not explain the latest drastic rise of foodbank use increasing by a third. And the Trussell Trust believes less than 3% of people visiting food banks are referred by Jobcentres.

"If people come to a foodbank more than three times in six months our system automatically flags this so that the foodbank manager can contact their social worker or the service that referred them to make sure that there is a plan in place to help their client break out of poverty," Mould says, The Trust insists that the reality is that without foodbanks people go hungry, and they prevent people from turning to extreme measures such as shoplifting or rummaging through bins in order to eat.

The Trussell Trust is adamant that media coverage does not generate the need. Independent research shows that 1 in 5 mums regularly skip meals to feed their children in the UK today. Widespread evidence from a range of care professionals states that short term hunger is a deep and real problem in the UK. More foodbanks are opening because people are going hungry.
As part of HuffPost's What's Working initiative, we're profiling inspirational people and organisations who are making a positive contribution to society by finding solutions to the world's problems.
Whether that's
homeless women taking up running to boost their confidence,
or
Desmond Tutu revealing why religion inspired him to fight for equality
, we're keen to share these stories. If you know of a someone who fits the bill, or would like to be featured, email us at
ukwhatsworking@huffingtonpost.com
.