Families are forced into food banks because of "unacceptable" delays in benefits, but action must be also taken to tackle high fuel bills, food prices and the "scandal" of millions of tonnes of wasted food, a landmark report will announce today.
The Feeding Britain report was prompted by concern over the "unprecedented" numbers of people depending on food banks in the UK. Leading church figures including the Archbishop of Canterbury have joined politicians in a rare politicised intervention into poverty in Britain.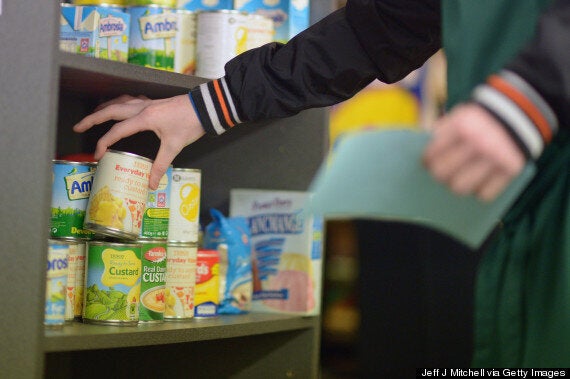 A Stuart Little volunteer grabs to pack at a food bank
The key recommendations include:
Establish a national organisation called Feeding Britain
Plan to deliver benefits within five working days of a legitimate claim
End government subsidies to destroy surplus edible food
Radically re-design food bank services to offer debt support and welfare advice
Introduce a 'Yellow Card' system, warning claimants of a possible sanction
Extend and improve 'crisis payment' during benefit delays
Education on cooking, parenting skills and budget management
Further action by the financial conduct authority to limit the high cost of credit
The elimination of higher-rate phone numbers
Extending the reach of the Trouble Families programme to stop children repeatedly coming to school hungry
The government said the report made a "serious" contribution to debate, but there was no direct response from the Department of Work and Pensions, which has repeatedly denied benefit delays and sanctions are the root of the problems.
At the launch of the report at Portcullis House on Monday, the government's representative was a Minister for Civil Society Rob Wilson, with no official voice from the DWP.
But the report did not solely place the blame for food poverty at the feet of the DWP. The inquiry team said that their "anger knows no bounds" at the destruction - sometimes with state subsidies - of 4.3 million tonnes of edible food deemed "surplus" by the UK food industry each year, just 2% of which is diverted to charities to feed the hungry.
One food bank manager, Don Gardner from Camborne, Pool and Redruth, told the inquiry he had 9,864 Cornish pasties offered to him because "the lorry was seventeen minutes late to Morrisons".
He was also offered 30,000 spring greens set to be "ploughed back into the field" but he had to rejected them because of lack of space, as well as "10 tonnes of tomatoes from Kent because they were too big for Tesco".
The report also suggested addiction was a cause of poverty, with some families spent up to a quarter of a £21,000-a-year income on smoking, and that food was sometimes prioritised behind alcohol and gambling, and even goods from catalogues.
"A considerable number of our poorest families and individuals find themselves trapped in a vicious circle of addiction fed by debt, at the expense of being able to put food on the table," the report found.
Poor households saw the proportion of their incomes swallowed up by housing cost, bills and food soar from 31% to 40% between 2003 and 2012, leaving them little margin to cope with emergency expenses, found the inquiry.
The report skewered the Department for Work and Pensions on benefit delays, saying families in crisis were sometimes waiting up to 13 weeks for payment, echoing the concerns of a previous joint report from Oxfam and the Trussell Trust just a fortnight ago.
Some of the requirements that benefit claimants have been asked to fulfill were "almost impossible", the report said, finding one man sanctioned despite telling the Jobcentre Plus he had an urgent and last-minute hospital appointment change for his daughter, and another for not applying for two jobs on time, despite the fact the companies themselves had sent him the forms past the closing date.
The committee urged the government to distinguish between a "willful disregard" for the rules, and the sanctions resulting from a poor understanding of the system.
Since the establishment of the Trussell Trust network in 2004, numbers of emergency food assistance providers have grown to at least 1,500, including 800 food banks - around half of them operated by the Trust.
PLEDGES FROM BRITISH SUPERMARKETS:

Many of the leading supermarkets have made new commitments to take action in the wake of the report

Asda has stepped forward as Britain's first retailer to waive their suppliers' delivery fees for surplus food given to FareShare.
The Co-operative has committed itself to working with Feeding Britain
Sainsbury's is setting up a new summit with its suppliers to offer more fresh surplus fruit and vegetables to FareShare
Morrison's is setting out plans to expand its partnership with FoodCycle during 2015 to cover even more local areas in which its stores are located.
Asda and Waitrose have set themselves targets to send none of their edible surplus food to Anaerobic Digestion.
Waitrose is now encouraging all of its branches to donate surplus food to charities in the local community.
Tesco is continuing with its pioneering National Food Collection.
The report called for the establishment of a national organisation, also called Feeding Britain, to drive a campaign to end hunger, and urged the Government to help fund 12 pilot projects covering each region of the UK.
Trussell Trust chairman Chris Mould said action would now depend on the political will to accept there really was a problem, both with business and welfare. In a blog for the Huffington Post, he said. "A wide group of stakeholders have to decide "do we accept the narrative?' And the narrative is a challenging one. The Inquiry confirms that Hunger in Britain really is a problem: people calling for action on hunger have not been scaremongering."
"The public sector has to co-operate with equal commitment, or the aspiration in Feeding Britain will not work. Public services are integral to resolving the underlying issues that food bank clients face. The public sector cannot stand on the sidelines to see how the rest of us do and critique us when we find it difficult to achieve the goals."
Privately, some of the charities involved are said to be pleased with the report, but anxious the pressure is kept on government to act, rather than placing more of a burden on charities to increase the scope of their services, with many already offering the wide range of advice facilities the report recommends.
Co-chair of the inquiry Labour MP Frank Field, said: "There is clear evidence that something terribly disturbing is happening.
"People are near the abyss and the smallest thing can tip them over into the abyss. I would love there to be a welfare state where no one went hungry.
"At the end of the day, I doubt whether in the course of the next Parliament we are actually going to be able to achieve that, sadly."
But he did predict that if the government, or any subsequent government, committed to the reforms wholesale, then even with the predicted swinging cuts of the next parliament, food bank use would begin to decline.
ENDING 'RIP-OFF' BRITAIN

Ofcom will provide a consumers' guide to the DWP with advice on the best value phone deals, and tips on how to keep costs down, so this can be shared with benefit claimants. It is currently working on a debt advice guide which it will also share with DWP.
The Financial Conduct Authority will consider changing the price cap on High Cost money lender. It is also proposing measures to abolish the use of higher-rate telephone numbers by money lenders, credit card companies and banks.
Ofwat will encourage water suppliers to offer social tariffs to poorer customers who find they can no longer afford their bills after being put on a water mater, and encourage all water companies not to use higher-rate telephone numbers.
The Trussell Trust said 420 food banks alone provided help to 913,138 people in 2013/14 - up from 128,697 in 2011/12. The report said it was "clear that demand for emergency food assistance is increasing, and sometimes increasing dramatically".
"Although practically every respondent to this inquiry has asserted that the food bank movement should not form a new version of a residual or Poor Law kind of welfare state, it became clear from our evidence that food banks are here to stay - for more than the immediate future. In order to prevent a court-directed eviction for rent arrears or a court order to cut off their utility supplies, many families go without food and therefore see food banks as reintroducing that buffer in their finances which many have lost," the report said.
The inquiry's co-chair, Anglican Bishop of Truro Tim Thornton, said: "We heard stories and gained first-hand experience that led us to the conclusion that the rise in the use of food banks does indicate a deeper problem in our society - the 'glue' that used to be there is no longer there in many instances.
"We live at a time when many of the givens by way of family life, social networks, friendship groups, and self-help infrastructure are simply not there. This means that the issues people face relating to hunger and food poverty are exacerbated and heightened because there are hardly any of the ways and means that once did exist for people to support each other.
"We believe it is time to look again at the state of our country and to review the fundamental values that led to the creation of our welfare state. We propose in Feeding Britain a strategy for renewing the welfare state so it can better reflect and encourage the relationships which contribute to the wellbeing of our citizens, including the poorest."
The report also demanded an end to rip-off charges for credit, mobile phones, gas, electricity and water.
And it called for a "co-ordinated response" from government to reduce hunger, including by ensuring schools take action on children arriving in the morning unfed; increasing wages at the bottom towards the living wage level; and aiming to deliver all benefits within five days of a claim and give claimants a "yellow card" warning before imposing sanctions.
A Cabinet Office spokesman said: "This report is a serious contribution to an important debate, with many good ideas, and recognising that the reasons behind demands for emergency food assistance are complex and frequently overlapping.
"As a country we have enough food to go around, and we agree that it is wrong that anyone should go hungry at the same time as surplus food is going to waste. There is a moral argument as well as a sustainability one to ensure we make the best use of resources."
Andrew Opie, British Retail Consortium director of food and sustainability, said food surplus was not entirely to blame either.
"We understand the challenges faced by people on low incomes and our members continue to do everything they can to help but redistribution of surplus food at retail level only makes a small contribution to alleviate poverty and it's not a solution to hunger in the UK," he said.
"As the report highlights there are many issues that need to be addressed to tackle the underlying causes. However, we currently have both food poverty and food surpluses and retailers have proved very willing to step up and make sure that useable excess stock goes to charities and redistribution organisations across the UK."
Related