Three men have been arrested after a British pilot was shot dead while on an anti-poaching mission in Tanzania.
Englishman Roger Gower, 37, was helping wildlife authorities track the criminals when they fired on his aircraft on Friday.
On Sunday, it was announced that three men had been arrested over the fatal shooting.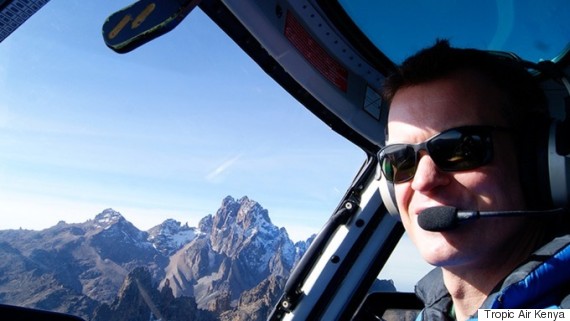 Roger Gower
"The suspects are in the hands of police," Natural Resources and Tourism Minister Jumanne Maghembe told AFP.
"They are cooperating, and soon more people making up the poaching gang will be netted and brought to justice."
SEE ALSO: Conservationist Brit 'Killed By Poachers' In Tanzania

The minister pledged that any other suspects will be arrested in security operations after the attack in Maswa wildlife reserve, near Serengeti National Park.
The poachers reportedly fired on the helicopter with an AK 47.
A co-pilot survived with injuries, Tanzanian authorities said.
Founder of the Friedkin Conservation Fund, Dan Friedkin, said the organisation was "profoundly saddened by the loss of our dear friend".
He said: "Roger was killed while piloting a helicopter during a co-ordinated effort with the Tanzanian wildlife authorities to track down and arrest active elephant poachers. In the course of this action the poachers fired upon the helicopter and Roger was fatally wounded.
"We are committed to honouring Roger and his work. We are also committed to ensuring that those responsible for this attack are found and brought to justice. We believe that Roger can best be honoured by redoubling our commitment to protect elephants and our priceless wildlife heritage.
"This tragic event again highlights the appalling risk and cost of protecting Tanzania¹s wildlife."
Britain's Foreign Office confirmed the death of a Briton in Tanzania and said it was "providing assistance to the family at this difficult time."
Rangers discovered the carcasses of three elephants that were killed by the same group of poachers that fired on the helicopter, said Paschal Shelutete, spokesman for Tanzania's parks service.
Gower was a former accountant who qualified as a pilot in 2004 and moved to Africa around two years later, according to a profile with his former employer Tropic Air Kenya. It also says he helped the British Army on exercises in the country.
Tanzania is a hotspot for elephant poachers. A report last year revealed that 60% of its elephant population had been lost in the previous five years.
China is the world's largest market for illegal ivory, which has been thriving under the cover of legal ivory sales. Tanzania also last year charged a Chinese woman, Yang Feng Clan, 66, with smuggling 1.9 tons of ivory from the country between 2000 and 2014.
SEE ALSO:
Also on the Huffington Post UK:
Rhino Named Hope Survives Poacher Attack
A team of veterinarians help dress Hope's wound with a new cast on May 18.

The group offers an update on Hope's condition after her surgery: "She is alive!!"

"Even though she is far from out of danger, her bloods have come back surprisingly clean," the group wrote on May 19. They noted a "marked improvement" in Hope's condition from the previous day, adding her appetite returning.

WARNING: This next slide contains a graphic photo of Hope's injury when veterinarians found her

"Sorry for the graphic nature of the photos, but people should start seeing what is being done to our rhino...and what we deal with on a daily basis," wrote the group after posting a photo of Hope's wound.

Veterinarians cover Hope's wound with a fibreglass cast.

Two days after her surgery, veterinarians note Hope's strength slowly returning to her.

Hope pictured on May 24.

Veterinarians note positive signs with Hope's recovery including improvements with her breathing, eating, and drinking. Here she is in a photo uploaded to Facebook on May 25.