UPDATE:
Fourteen chief executives of NHS trusts across England say they do not support the imposition, despite their names being attached to a letter advising the government to "do whatever it deems necessary to end uncertainty".
They say that while they support the government's offer to junior doctors, they do not agree with it being forced on medics, The Health Service Journal reported. "I see the offer as safe, fair and reasonable but don't support imposition," one of the 20 chief executives to sign the letter wrote on Twitter.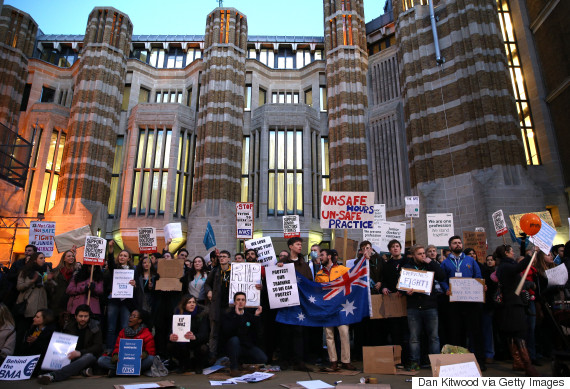 Junior doctors protested outside the Department of Health on Thursday after Hunt's imposition
NHS chief negotiator Sir David Dalton penned the letter to ministers following the British Medical Association's decision to reject a "take-it-or-leave-it" deal on Wednesday.
The letter read (PDF): "Following consultation with Chief Executives and other leaders in the service, it is clear that the NHS needs certainty on this contract and that a continuation of a dispute, with a stalemate and without any clear ending, would be harmful to service continuity, with adverse consequences to patients.
"On this basis I therefore advise the government to do whatever it deems necessary to end uncertainty for the service and to make sure that a new contract is in place which is as close as possible to the final position put forward to the BMA yesterday.
Dalton signed off: "I can confirm that this position is supported by both the NHS Confederation and NHS Providers, together with support from Chief Executives across the country, and their names are supplied."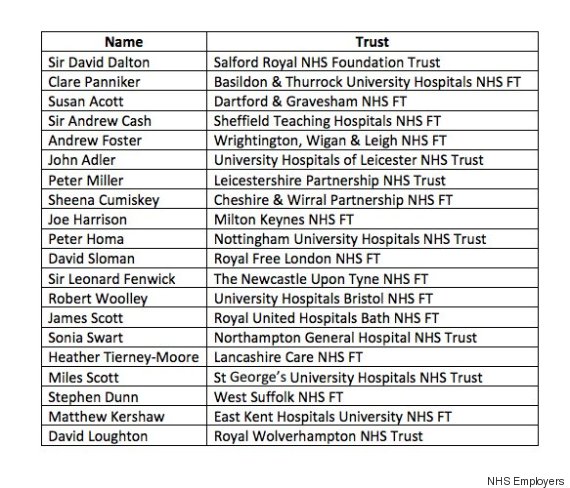 The list of 20 NHS bosses used to justify Jeremy Hunt's imposition of the new contract
The letter was used by Hunt to justify his decision to proceed with the imposition of the contract, despite negotiations between the NHS Employers group and medics having broken down.
Speaking in the Commons, Mr Hunt said: "He (Sir David) has asked me to end the uncertainty for the service by proceeding with the introduction of a new contract that he and his colleagues consider both safer for patients and fair and reasonable for junior doctors. I have therefore today decided to do that."
However, colleagues of Dalton have now clarified their positions - with at least 12 challenging the suggestion they supported Hunt's unilateral move, alongside two others who have asked for their names to be removed.
1. Miles Scott, CEO St George's Trust
@georgesjuniors @jeremy_hunt @stgeorgestrust To be clear, I supported the contract offer but not imposition.
2. Andrew Foster, CEO Wrightington, Wigan & Leigh NHS Foundation Trust
@cpeedell I have not supported contract imposition. I have supported the view that the offer made is reasonable.
3. David Sloman, CEO Royal Free London NHS Foundation Trust
Full statement from David Sloman: pic.twitter.com/RiQJ9XGX8T
4. Prof Dr Stephen Dunn, CEO West Suffolk NHS Foundation Trust
@HSJEditor I never said impose the contract. I do support David's offer
5. David Loughton, CEO Royal Wolverhampton NHS Trust
Breaking: David Loughton of Royal Wolverhampton Trust clarifies he "does not support imposition" of #juniorcontract
6. Joe Harrison, CEO Milton Keynes NHS Foundation Trust
This is the same as my position @MKHospital https://t.co/L49sVgFzzS
7. Sir Andrew Cash, CEO Sheffield Teaching Hospitals NHS Foundation Trust
"I support the improved offer made this week as fair and reasonable, but I do not support imposition" Sir Andrew Cash on #juniorcontract
8. Claire Murdoch, CEO Central and North West London NHS Foundation Trust
Statement from @ClaireCNWL to HSJ...pretty clear she should never have been on that list #juniorcontract pic.twitter.com/NXmK4AOXvt
9. Peter Homa, CEO Nottingham University Hospitals NHS Trust
Nine CEOs as Peter Homa from @nottmhospitals says he supports Dalton's offer but does not support contract imposition #juniorcontract
10. Peter Miller, CEO Leicestershire Partnership NHS Trust
10 chief execs now clear they dont support inposition of #juniorcontract as @LPTCEO comments: pic.twitter.com/OXdl55F2mY
11. Susan Acott, CEO Dartford and Gravesham NHS Trust
Breaking: Now 11 CEOs out of original 20 oppose imposition of #juniorcontract as Susan Acott joins a growing list: pic.twitter.com/smrnFsJGNk
12. Matthew Kershaw, East Kent Hospitals University NHS FT
Breaking: Matthew Kershaw from East Kent FT becomes 12th CEO to say he didnt support #juniorcontract imposition: pic.twitter.com/HIlhUNaaid
13. James Scott, CEO Royal United Hospitals Bath NHS Foundation Trust
Statement from @ChiefExecRUH https://t.co/HP4q8Fsgnu
Chief executives of other trusts tried to distance themselves from the letter, without explicitly saying whether they were opposed to Hunt's imposition or not.
14. Robert Woolley, CEO University Hospitals Bristol
University Hospitals Bristol Chief Robert Woolley never saw the #juniorcontract statement it has now emerged: pic.twitter.com/q85Ks1gRbP
In addition, another CEO, Sonia Swart, of Northampton General Hospital NHS Trust joined her colleague Claire Murdoch in demanding her name be removed from the letter.
Heather Tierney-Moore, CEO at Lancashire Care FT, said in a statement that imposing the conditions on working doctors, rather than reaching an agreement "can only be seen as failure".
John Adler, CEO of University of Leicester Hospitals NHS Trust, said the decision whether or not to impose the contract was "one for the government, not individual trusts".
The Department of Health referred HuffPost UK to NHS Employers on Thursday, but it has yet to respond to a request for comment.
And junior medics protested his decision outside the Department of Health in Whitehall on Thursday evening, drawing support from Labour's Shadow Secretary of State for Communities and Local Government Jon Trickett.
A fantastic sight now outside Dept of Health: junior docs protest and many passing taxi Drivers hooting in solidarity
SUBSCRIBE TO & FOLLOW UK DAILY BRIEF