Piers Morgan has sparked outrage by insisting that it is not "unreasonable" for companies to force women to wear high heels at work.
Morgan reportedly told viewers: "Certain jobs I don't think it's unreasonable for them (employers) to say we don't want you in flats showing visitors around.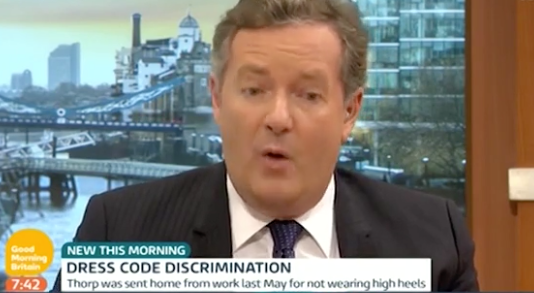 "She was a receptionist for an accountancy firm, she wanted the right to wear flat shoes and not to wear lipstick.
"That to me is not what a receptionist should be."
Morgan added: "If you're in the presentation game, man or woman, it's perfectly acceptable to say to staff 'this is the dress code'."
Many were quick to criticise Morgan on Twitter...
Despite the outrage and disagreeing with Morgan on air, Thorp seemingly enjoyed the debate, retweeting Morgan's post below. 
However, Morgan went on to respond to a number of critics on Twitter, while doubling down on his views...
The exchange came following the release of a research by the Petitions Committee and Women's and Equalities Committee.
It found gender-specific dress codes, including compulsory wearing of heels, cause women to suffer long-term health effects and feel degraded.
The committees' joint report also revealed that such dress codes are still widespread, although they amount to discrimination under the Equality Act.
The act is "not yet fully effective" and "obviously not working in practice", meaning such codes are still widespread, the committee said. 
The inquiry was launched following a petition started by Thorp, which gained more than 150,000 signatures.
Morgan said: "We should all be able to have different views.
"I'd have respected him more if he came here, sat down and went 'you are wrong about the Women's March'.
"We could have had an adult conversation about it - we weren't going to ask him about it, we were going to talk about his movie that he was here to promote."
Women's Equality Party leader Sophie Walker also challenged Morgan after her slot to discuss the women's marches was cancelled.
Walker had previously appeared on the show alongside Women's and Equalities Committee chair Maria Miller to discuss the women's marches.
SUBSCRIBE TO & FOLLOW UK DAILY BRIEF