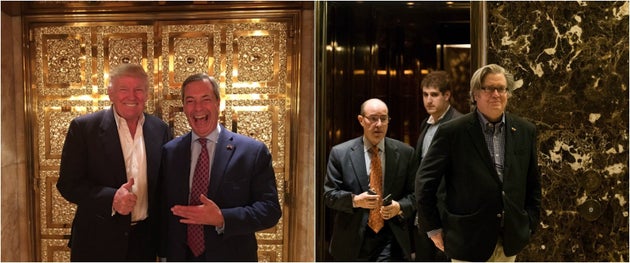 Former KKK leader David Duke said Bannon's appointment was "excellent".
The former Grand Wizard told CNN: "I think that anyone that helps complete the program and the policies that President-Elect Trump has developed during the campaign is a very good thing, obviously.
"So it's good to see that he's sticking to the issues and the ideas that he proposed as a candidate. Now he's president-elect and he's sticking to it and he's reaffirming those issues.
"You have an individual, Mr Bannon, who's basically creating the ideological aspects of where we're going.
"And ideology ultimately is the most important aspect of any government."
Leader of the American Nazi Party Rocky Suhayda wrote to CNN: "Perhaps The Donald is for 'REAL' and is not going to be another controlled puppet directed by the usual 'Wire Pullers,' and does indeed intend to ROCK the BOAT? Time will tell."
And Richard Spencer, a leader in the "alt-right", a term he helped coin in 2008, told The Huffington Post: "Trump is signaling that he's not going to be your father's Republican.
"He's going to be something different, and new ideological space is opening up."
On the white supremacist internet forum Stormfront, users welcomed Bannon's appointment, as "[t]he man who will have Trump's ear more than anyone else."
Trump's choice of Bannon "signals that White Supremacists will be represented at the highest levels in Trump's White House," said Adam Jentleson, a spokesman for Democratic Senator Harry Reid.
SUBSCRIBE TO & FOLLOW UK DAILY BRIEF
Get top stories and blog posts emailed to me each day. Newsletters may offer personalized content or advertisements. Learn more