Of all the areas in which the Internet of Things can revolutionise the world, in my eyes one of the most exciting - with the potential to help some of the most vulnerable people on a massive scale - is healthcare.
Innovation has propelled the human race forward since the dawn of time - from the wheel, to the horse and cart, steam and internal combustion. Yet as our natural resources wane, what's next? It's time to innovate.
Over the last ten years charities have lost more than £3.2bn in grants from government. More recently, public trust in the third sector has plummeted...
The world is an increasingly complex place. Traditional institutions designed to hold together society have lost the authority they once had. Public trust in government, the financial sector and brands is at an all-time low. Racial division, climate change, inequality and terrorism dominate headlines.
The phrase 'food waste' conjures images of supermarket wheelie bins, brimming with delicious and perfectly edible food. Campaigners' torch lights have increasingly focused on supermarkets' wastefulness, and so we'd imagine that supermarkets are the biggest contributors to the estimated 10million tons of food wasted every year in the UK.
It truly does seem as if the institution has lost sight of its original intentions and that it has become more political and less savoury. The Presidency should not just be about policy, but policy change. It should not just be about carrying on prior or personal agendas, but it should be about pioneering and gearing up the next generation. The aim should be positive, innovative and inspiring.
Machines are going to complement what we do and will liberate workers from repetitive or dangerous tasks. Of course it's true that some jobs are going to go away, but others will be created too. New jobs -- and entire new job categories --are going to emerge in the wake of this technological upheaval
For urban innovation, there is an opportunity for cities, companies and institutions to engage in new ways on this global stage, and to do even better in developing the products and services for the markets of tomorrow.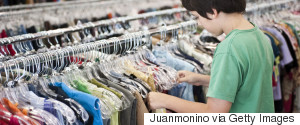 Scheduled for 2019, if the ban comes into effect it will have huge implications for textile collectors the world over, not to mention the much relied upon income that charities receive from this trade. With a looming ban on imported used textiles in the largest second-hand markets in the world, and the growing problem of textile waste, a different approach to textile recycling is needed.
Smart cities are also moving from concept to reality throughout central Europe, with metropolitan cities such as Amsterdam leading the way. The city deployed 40 projects ranging from smart parking, to the development of home energy storage for integration with a smart grid.
The innovations we already possess are multiple and together with ditching the car for a bicycle, rethinking our diets, getting involved in ecological projects around the planet, and altering shopping habits. Certainly, the best frontier in fighting climate change is taking place on home front, from the architecture through to our dinner plate