In the corner of the Occupy village, sat in the eastern shadow of St Paul's, a blue tent is a hive of industry.
Six protesters huddle around boxes, folding papers before passing newly formed pages around the circle.
A short walk from Fleet Street, spiritual home to the media establishment, the newsroom of The Occupied Times looks a humble affair.
Yet the dedicated team of staff, some journalists but mostly enthusiasts, have spent a week putting together the first edition of the protester rag.
"We all met on the steps of St Paul's a week ago," says Mircea Barbu, the 27-year-old editor, originally from Romania, who put the paper together with Huffington Post blogger Steven Maclean.
"We thought it was important to challenge and offer a different narrative compared to the mainstream media. I've seen the coverage and it's very subjective so it's essential to have a voice from inside the camp."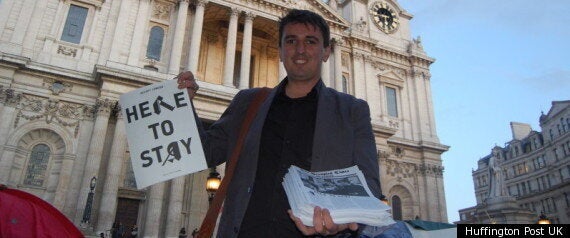 He insists that The Occupied Times is not the official paper. It's an "independent publication," he assures me, adding, "the workforce is mixed. Some have a media background, but most are just really excited to be here. We are giving people training where we can".
On the door a sign hangs that reads: 'Articles Submissions'.
"We've had all kinds of work come in, especially cartoons, drawings and poems, as well as pieces from people outside the camp," Barbu tells me.
The paper, three sheets of A3 folded to create 12 pages, features the defiant front-page headline "Here To Stay". Inside a team of 14 take credit for its publication, including typefaces courtesy of "Bastard".
Further into the book, there's a line on recycling and an article on the history of protest camping, while the entire lifestyle section gives way to the bizarre yet entertaining confessional: "Why I Hate Samba".
Though not quite The Times, with grammar about as consistent as the protesters' aims, the masses outside the great cathedral flocked to get a copy. The twitter account (@OccupiedTimes) already has more than 600 followers.
"I'll never be happy with the final product," says Barbu. "That's just part of the job but I am happy given the time and the challenges we've faced."
"This is the first edition but it's not the last. This will be a weekly paper. We're going to change the format and make it even bigger."
I ask him how much it costs to buy a copy of the inaugural publication.
He looks at me, folds another sheet of paper, smiles and says: "It's beautiful… and it's free."
Related