David Cameron, Angela Merkel and Nicolas Sarkozy have issued a statement amid EU oil sanctions imposed against Iran today.
The statement said: "Today, the EU agreed an unprecedented package of sanctions on Iran, including a full ban on Iranian oil exports.
"Our message is clear. We have no quarrel with the Iranian people. But the Iranian leadership has failed to restore international confidence in the exclusively peaceful nature of its nuclear programme. We will not accept Iran acquiring a nuclear weapon. Iran has so far had no regard for its international obligations and is already exporting and threatening violence around its region.
"We call on Iran's leadership immediately to suspend its sensitive nuclear activities and abide fully by its international obligations. The door is open to Iran to engage in serious and meaningful negotiations about its nuclear programme. Until Iran comes to the table, we will be united behind strong measures to undermine the regime's ability to fund its nuclear programme, and to demonstrate the cost of a path that threatens the peace and security of us all."
The Ministry of Defence confirmed that a Royal Navy Type 23 frigate, HMS Argyll, was part of the US-led carrier group to pass through the Strait of Hormuz waterway.
The strait, a 34-mile-wide sea passage, connects the petroleum-producing Persian Gulf states to the ocean, making it a strategic choke point on the world's economy.
Iran today rejected the sanctions as "psychological warfare", saying they would worsen the stand-off, Reuters reported.
Foreign Ministry spokesman Ramin Mehmanparast told state television: "European Union sanctions on Iranian oil is psychological warfare… Imposing economic sanctions is illogical and unfair but will not stop our nation from obtaining its rights."
Iran is threatening to retaliate by closing the Strait of Hormuz – through which a fifth of the world's crude oil is transported, CBS reported.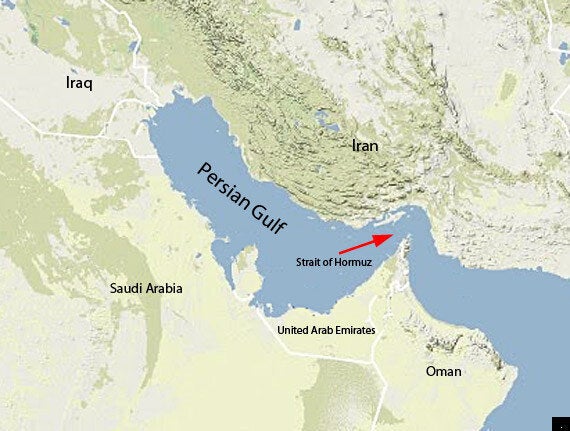 It came as Foreign Secretary William Hague urged Iran to "come to its senses" and resume negotiations on its nuclear programme.
Any bid by Iran to block the Strait of Hormuz at the entrance to the Gulf, would be "illegal" and "unsuccessful", Hague warned.
The new sanctions follow the stepping up of economic and diplomatic sanctions against Iran last month, targeting members of the ruling regime and associates who are subject to visa bans in Europe and the freezing of assets.
But today's ramping up of measures reflects concern that Iran is developing nuclear weapons under the guise of a nuclear energy programme.
Hague commented: "These (sanctions) are peaceful and legitimate measures. They are not about conflict.
"I hope Iran will come to its senses on this issue and agree to negotiate."
EU governments are calculating that the loss of European oil markets will persuade Iran to reopen talks on its nuclear plans.
On Monday, a MoD spokesman confirmed that "HMS Argyll and a French vessel joined a U.S. carrier group transiting through the Strait of Hormuz, to underline the unwavering international commitment to maintaining rights of passage under international law."
The six-strong flotilla was led by the USS Abraham Lincoln, a nuclear-powered aircraft carrier with up to 90 warplanes on board.
It reportedly passed through the Strait of Hormuz without incident.
The Abraham Lincoln is the first American carrier to enter the Gulf since the end of last year.
It replaced another carrier, the USS John C Stennis, in a routine ship rotation.
The departure of the USS John C Stennis had prompted the head of the Iranian armed forces, General Ataollah Salehi, to warn the Americans not to send any more carriers to the region.
"We don't have any intention of repeating our warning and we warn only once," he said.
The MoD spokesman said that Britain maintained "a constant presence in the region as part of our enduring contribution to Gulf security".
Royal Navy warships have been patrolling there continuously since the 1980s.