Thieves have stolen the preserved heart of Dublin's patron saint Laurence O' Toole from the city's cathedral.
Just one incident in the latest spate of holy relic raids to hit the Irish Republic, the 12th century heart was stolen from Saint Lauds Chapel within the cathedral.
Investigating gardai believe it was taken some time between last night and around 12.30pm this afternoon.
The saint's preserved heart was kept in a wooden heart-shaped container sealed within a small iron barred box.
Born Lorcan Ua Tuathail in Castledermot, Co Kildare, in 1128, Laurence (Lorcan) O'Toole was appointed Archbishop of Dublin after the death of Archbishop Gregory in 1162.
The self-denying saint wore a scratchy hair shirt as a form of penance. St. Laurence refused to eat 'luxurious' meat and every Lent lived for forty days in St. Kevin's cave, near Glendalough.
He died in November 1180 in Normandy, France and was canonised in 1225. The saint's remains have continued to inspire worship after being made into a number of relics. His heart was preserved in Christ Church Cathedral since the 13th century, and his skull was brought to Britain in 1442. However his bones disappeared during the Reformation.
A Christ Church Cathedral spokeswoman said the thieves ignored valuable gold chalices and gold candlesticks in the chapel in favour of the financially worthless relic.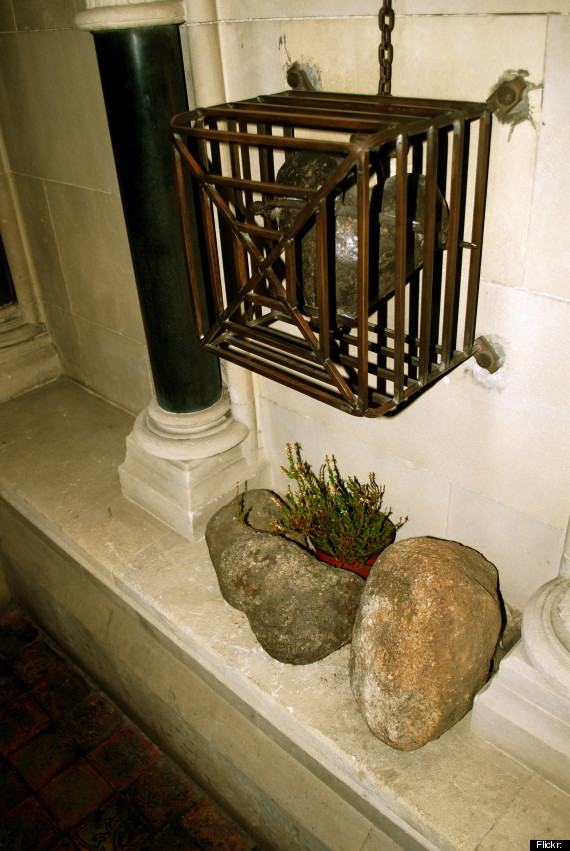 The heart is protected in the cathedral by an iron box
"It's completely bizarre," she said.
"They didn't touch anything else. They specifically targeted this, they wanted the heart of St Laurence O'Toole."
Gardai spent the day scouring CCTV footage of people entering the cathedral.
There were only about 40 visitors between 9.30am and 12.30pm today, when it was noticed missing.
But church authorities say it is possible the thieves had hidden themselves in the building overnight and broke into the relic after the cathedral closed for the day.
A spokeswoman said the thieves would have needed a metal cutter to prise back bars that protected the enclosed heart.
The bizarre theft of his ancient shrivelled heart follows two other incidents in recent months.
In January, a holy shrine that normally contains a relic of St Brigid was stolen from a church as worshippers prepared for the patron saint's feast day.
Thieves made off with the rare Celtic-designed reliquary - an ornate container for relics - which was screwed into the altar at St Brigid's Church in Killester, north Dublin.
Parish officials had only removed the relic weeks beforehand as the distinctive press, worth 10,000 euros, was being restored.
Last October in Co Tipperary, another ancient relic, believed to be from the actual cross on which Jesus was crucified, was stolen.
That priceless artefact was returned to Holycross Abbey, near Thurles, at the start of the year after gardai carried out a search in the midlands.
Gardai have appealed for witnesses to come forward.