Distraught parents and pupils have told of their horror following the school shooting in Toulouse, France, which has left at least four dead.
A gunman opened fire at the Ozar Hatorah School in Jolimont just after 8am on Monday.
Speaking to RTL Radio, one father told how he saw "two people dead in front of the school, an adult and a child."
He called the scene "a vision of horror," adding that he could not find his son.
"Apparently he fled when he saw what happened," the father said, adding: "How can they attack something as sacred as a school?"
Charles Bensemoun, another father who spoke shortly after the attack, called the incident "an abominable, obscurantist, anti-Semitic attack of the worst kind."
"They are shooting children," he added, while waiting anxiously for his son to be released by the security forces surrounding the school.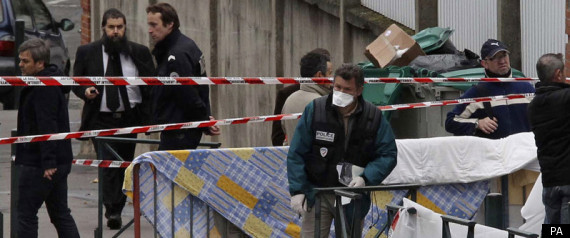 Police officers gather at the site of a shooting in Toulouse
"How else can you explain that? We're dealing with the most brutal, most disgusting anti-Semitism."
Karine Tordjman, who has a son and niece at the school, said she was "very shocked".
"Mine are fine, but the victims could as well be my kids. Everyone here knows each other," she said.
The shootings come after a week of violent attacks on soldiers of North African origin in the area around Toulouse.
Two French paratroopers were shot in the town of Montauban on Friday, when a gunman on a black motorbike pulled up at a cash machine and opened fire.
"How can you expect me to explain what happened," said Tordjman. "There is no explanation. Obviously it's the same method as that bastard who shot the solders, but that doesn't mean anything."
Six-year-old Alexia, a pupil at the school, said: "I came to the school this morning for prayers. Five minutes later we heard shots and we were very afraid. We were gathered in a room and prayed together while we waited for our parents."