A Tibetan has set fire to himself in protest over the ownership of the Tibet region in New Delhi, India, ahead of a visit by Chinese president Hu Jintao.
In the midst of a protest against the Chinese government's controversial treatment of Tibet outside the Indian Parliament, a Tibetan man emerged engulfed in flames, shocking the surrounding protesters.
Having doused himself with a flammable liquid, the man ran ablaze through the crowds, shouting before he collapsed.
Onlookers beat him with flags and poured water on the flames in an attempt to put them out. The man's clothes and skin were left burned and charred.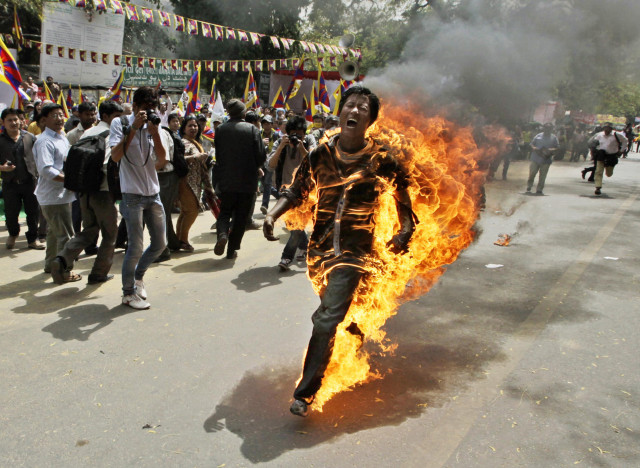 Police took the man, identified as Jampa Yeshi, a Tibetan exile, to a local hospital, where he is receiving treatment for burns on 90% of his body.
His condition remains critical.
The protest came ahead of President Jintao's appearance at an economic summit with representatives from fellow emerging economies Brazil, Russia, China and South Africa later this week. More than 600 protesters marched on the parliament building, many of the carry placards highlighting Tibet's independence from China.
China's ownership of Tibet is one of the longest-running political feuds in the world. Self-immolation is a common form of protest for Tibetans, particularly monks.
Yeshi is the second man to set fire to himself in India this year over the issue. In China, there have been a reported 25 similar protests, many of them involving self-immolation by monks.
According to the Associated Press (AP), Indian police arrested scores of Tibetan protesters after the incident.
The organisers of the protest said that the self-immolation was not planned.
"We have no idea how this happened, but we appreciate the courage," Tenzing Norsang of the Tibetan Youth Congress told AP, adding that "Hu Jintao is responsible for what is happening there".
"This is what China faces unless they give freedom to Tibet," he said.
Speaking to The Huffington Post UK, Philippa Carrick, the chief executive officer of the Tibetan Society in London, said that the incident in India "is indicative of the strength of feeling and solidarity Tibetans in exile hold for their family and kin inside Tibet".
"Sadly it would not surprise me if this was not an isolated incident," she added.
"Until China, through their own will or through pressure from world governments, begins to address the underlying grievances held by Tibetans, such drastic acts will not stop. After 60 years of occupation, Tibetans are clearly signposting they have had enough."