France's first lady made a rare public appearance yesterday, leaving some in shock at the apparent decline in her supermodel looks.
The 44-year-old was photographed voting in the first round of the presidential elections, just as polls predicted her husband Nicolas Sarkozy was on course for a defeat.
Her once gamine appearance was no longer in evidence, in its place a puffy, yet strained mask that has led to speculation she has perhaps been indulging in Botox and/ or other cosmetic procedures.
Scroll down for more pictures of Carla Bruni in Paris yesterday and a gallery of celebrity surgery images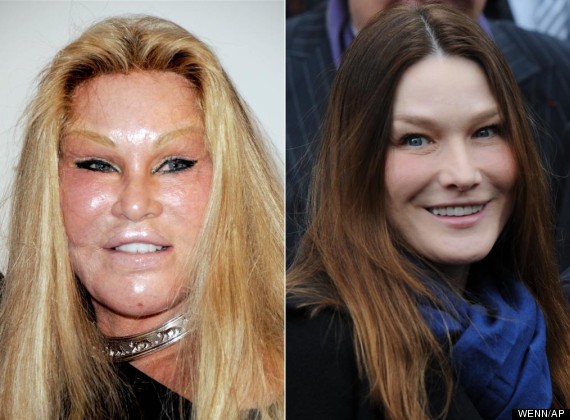 Unkind comparisons to Jocelyn Wildenstein (above), the New York socialite who famously had her face altered to appear more 'catlike' were also touted.
However, Bruni has been compared to the 'Bride of Wildenstein' as she is often known, as much as two years ago.
SEE ALSO:
Bruni, who gave birth to baby Giuliana last year, has had a high profile love life and has frequently been pictured on the arms of various musicians and rock stars in the past, including Eric Clapton and Mick Jagger, controversially while he was still married to Jerry Hall. The way she was: Bruni was known for her fresh-faced beauty