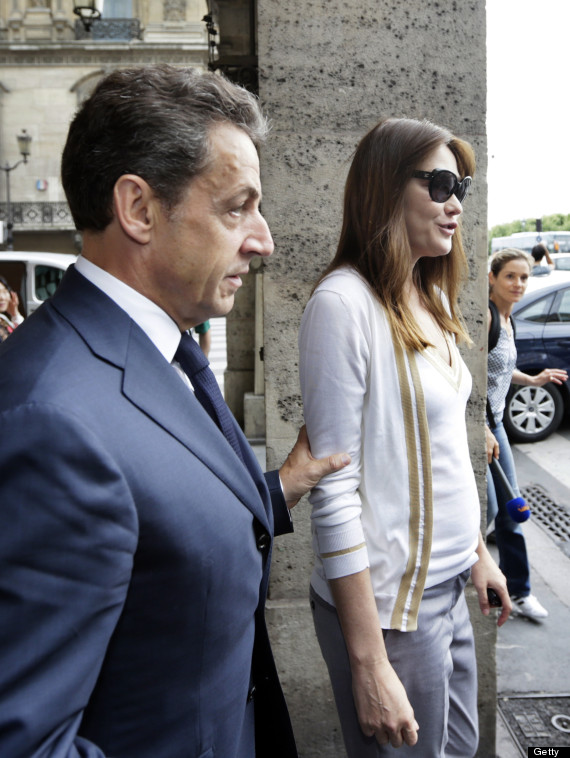 Carla Bruni on Thursday: Bun in the oven? Or just a big lunch?
A French gossip magazine is reporting former First Lady Carla Bruni is pregnant.
The claims follow whispers about the former model's appearance in recent months. If true it will be the 44-year-old's second child with ex French President Nicolas Sarkozy.
A source told France's Closer magazine: "We can now reveal Carla Bruni-Sarkozy is pregnant again. And with her stomach looking ever more round, she can no longer hide it.
SEE ALSO: Has Carla Bruni Been At The Botox?
'She clearly wants to nurture this pregnancy with the utmost care, because, like the last one, it is later in life so all the riskier, and she has therefore been advised to take as much rest as possible."
However fellow glossy Voici has dismissed the reports.
It quoted a "very close friend" as saying: "Carla Bruni will not officially deny it, but I can tell you that she's not pregnant.
"She breast-fed her daughter and she's beginning to lose weight."
Bruni gave birth to daughter Guilia in 2011. She also has a 11-year-old son with former lover Raphael Enthoven.
Discussion about the Sarkozy and Bruni's private lives has become something of a national sport in France, with rumours of infidelities on both sides reaching a crescendo in 2010.
But Bruni, who married Sarkozy in 2008, seemed unruffled, telling Europe 1 radio: "For me and my husband these rumours are insignificant... There is no plot. There is no vengeance. There is nothing, we have turned the page."
The former supermodel has had a high profile love life and has frequently been pictured on the arms of various musicians and rock stars in the past, including Eric Clapton and Mick Jagger, controversially while he was still married to Jerry Hall.