A slice of Royal Wedding memorabilia is to be served up at auction when a piece of the Duke and Duchess's cake goes on sale.
A square from the eight-tiered fruit cake was given to a guest at Prince William and the Duchess of Cambridge's wedding last April.
Wrapped in baking paper, the cake will be sold at an online auction next month with a starting bid of £100.
Scroll down for a gallery of Kate and William's big day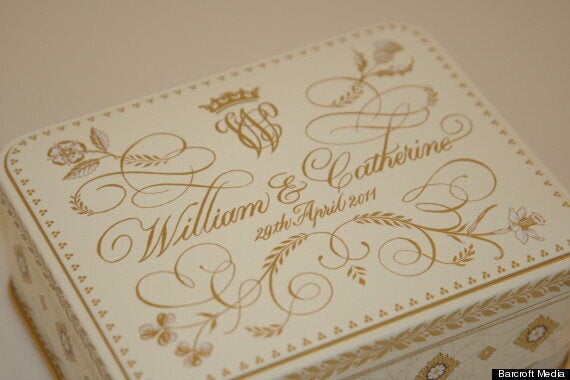 Bids for the slice of cake will start at £100
It is hoped bids will exceed the £1,000 paid for a piece of Prince Charles and Lady Diana's wedding cake at an auction in 2008.
The royal memento comes in a white and gold presentation box which also includes an original 16-page Order of Service from the Westminster Abbey service last April containing the vows, hymns, prayers and blessings.
It is though to be the first piece of the cake from the Royal Wedding to go on sale.
The cake is accompanied by a printed compliments slip from TRH The Prince of Wales and The Duchess of Cornwall.
The four-foot cake which was covered in cream and white icing and decorated with up to 900 delicate sugar-paste flowers took cake maker Fiona Cairns five weeks to make.
Kylie Whitehead, of PFC Auctions, said: "We believe that this is the first piece of William and Kate's wedding cake to appear at auction.
"It is estimated that around two billion people watched the wedding on TV so we anticipate worldwide interest.
"It's a fantastic opportunity to own such a personal piece of memorabilia from the future King and Queen."
A compliments slip which accompanies the cake reads, "With best wishes from TRH The Prince of Wales and The Dutchess of Cornwall in celebration of the weding of TRH the Duke and Duchess of Cambridge".
Related