Scotland's First Minister Alex Salmond formally launched his long-touted campaign for Scottish independence at a celebrity-packed event in Edinburgh on the same day that a YouGov poll revealed that only a third of Scots want to leave the UK.
Called Yes Scotland, the movement vowed to stage the "biggest community-based campaign in Scotland's history" in the run-up to the independence referendum, which could take place as soon as October 2014.
Salmond, one of the key players behind the movement, told the gathered masses: "We unite behind a declaration of self-evident truth. By the time we enter the referendum campaign in autumn 2014, our intention is to have one million Scots who have signed the independence for Scotland declaration. Friends, if we achieve that, then we shall win an independent Scotland."
However, the Salmond's crusade has already stalled according to Alistair Darling, with the former chancellor releasing poll figures on Friday morning that suggests that only a third of Scots want independence.
Conducted by YouGov, the poll of around 1,000 people found that only 33% of Scots would opt for self-government while 57% would vote against it.
Darling said on Friday: "The nationalists will go to great lengths to try to prove there is a groundswell towards leaving the UK but the truth is that their campaign is stalled. Independence is as unpopular as it has ever been."
Still, Salmond remained defiant, thundering at the launch event: "The people who live in Scotland are best placed to make the decisions that affect Scotland.
"We want a Scotland that's greener, that's fairer and more prosperous.
"We realise that the power of an independent Scotland is necessary to achieve these great ends." Scottish First Minister Alex Salmond answers questions during Question Time at the Scottish Parliament
Politicians from other parties, including the Greens, who want Scotland to leave the UK, joined the SNP leader.
A message of support from actor Sir Sean Connery, a long-standing supporter of independence, was read out to the crowd.
Alan Cumming, the Scottish film, television and stage actor, also attended.
Salmond continued: "We don't start from scratch. We have a parliament, which has earned its spurs for more than a decade. A major drive to persuade people Scots to vote for independence begins today
If the parliament can run education, then why can't it run the economy? If it can be trusted to run the health service, then why can't it represent Scotland internationally?
"If it can be trusted to protect our old people, then why can't we protect the country, and do so without the obscenity of nuclear weapons?"
After a round of applause, the Scottish National Party leader said: "I want Scotland to be independent not because I think we are better than any other country but because I know we're as good as any other country.
OPINION: Scroll down to leave your comments
"Like these other nations, our future, our resources, our success should be in our own hands."
The campaign will be built "brick by brick" across communities, he said.
"We intend to take our case to the people by community activism and online wizardry," he said.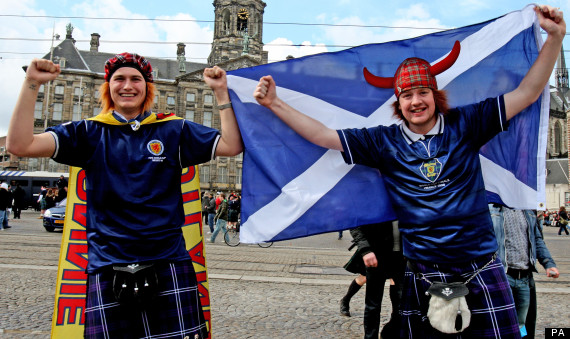 "The people who care most about Scotland are the people that should be running Scotland," say campaigners
The message from former James Bond star Sir Sean was read out by Martin Compston, who starred in the Ken Loach film Sweet Sixteen.
"This is a historic day for Scotland," it said. "The Yes campaign has centred on a positive vision for Scotland. It is rooted in inclusiveness, equality and that core democratic value that the people of Scotland are the best guardians of their own future."
Scottish Green Party co-leader Patrick Harvie said: "I am very pleased to be here at the launch of the Yes campaign.
"Greens are not nationalists. In fact, we are probably more comfortable than most parties in acknowledging the range of views that exist in our membership and our voters about the question of independence.
"But I believe, as most of us do, that the range of powers currently still held at Westminster simply make no sense from a Green perspective.
"Our politics don't begin or end with the constitution but with the need for a transformation in our society, our economy and in our politics.
"If we are going to convince the unconvinced, we must build a clear and compelling vision of what will be different, what independence is for and how society can change for the better.
"I certainly look forward to helping develop a clear and compelling case for Scotland to take a bold and radical step and vote Yes to independence in 2014." Scottish Parliament, Independent MSP Dennis Canavan with the Scottish Saltire flag
The campaign was launched at a packed cinema in the centre of Edinburgh.
Hollywood star Brian Cox was at the event to give his support for independence.
The Dundee-born actor told the 500-plus crowd that he had been a Labour supporter.
He described himself as a democratic socialist who had been "very proud" to be a voice for New Labour in the 1997 general election but Tony Blair's administration had failed to deliver "as much as I had hoped". He also criticised the war in Iraq.
Cox said that "more and more, as time goes on, repeatedly Parliament at Westminster can see no further than the end of its own bridge".
He told the audience: "I think Scotland has earned the right to its own-nation status. It has earned the right to control its own destiny. And it will certainly make a better job of it than that Parliament which has not the foggiest clue about Scotland's cultural, economic and social needs."
An independent Scotland would be "outward-looking, culturally confident, fiscally successful" and would be "an example to other small nations".
With the campaign for independence now under way, he said: "We have arrived at the moment to realise our potential. Please let's not waste it. Please let's say Yes."
Compston, who compered the event, told how he became a nationalist at the age of eight, after the 1992 election of John Major's Tory Government.
He recalled his "frustration" that Scotland would be "ruled by a Conservative Government the people of Scotland had not voted for".
Compston said: "Now I'm a grown-up and we're in the same situation all over again.
"I don't believe we're better than any other country in the UK or the world but I do believe we're equal. And I believe we have the right to determine our own destiny. That's why I'm here today to say Yes and that's why I'll be saying Yes in 2014."
Cumming, the X-Men star who campaigned for the establishment of a Scottish Parliament in the 1997 devolution referendum, said that since then Scotland "blossomed not just as a cultural force on the world stage but in terms of the confidence and the pride that Scottish people have come to enjoy because they are now making their own decisions".
He said: "I believe independence can only add to our potential and realise a whole new wave of creativity, ambition, confidence and pride. The evidence is clear. In the past 15 years we have become stronger economically, socially, culturally and globally.
"The world is waiting for us. I know Scotland is ready."
Not all those backing the campaign were present at the launch event.
Actress Elaine C Smith, best known for her role as Rab C Nesbitt's wife Mary, could not as attend as she is performing in Cardiff but she recorded a video message of support.
"We in the Yes campaign believe we can make Scotland a better place to live and work," she said.
Independence is not a "magic pill" for problems such as poverty but it would be a "real start for this country and its people on the wonderful journey to a better nation".
Liz Lochhead, Scotland's national poet, was one of the leading cultural figures at the lunch.
The Makar said she was not a member of any political party but was "very very happy and proud" to say "yes" to independence.
Meanwhile singer Dougie Maclean, who performed his hit Caledonia, said it was a"great privilege" to be included in such an "historic day".
The Proclaimers were also among the Yes Scotland supporters featured in a campaign video played at the event - which also included former Royal Bank of Scotland boss Sir George Mathewson and former Scottish Socialist Party MSP Colin Fox. The campaign launch involved leading figures from civil Scotland.
Blair Jenkins, the former head of news and current affairs at both BBC Scotland and STV who went on to chair the Scottish Broadcasting Commission, declared his support for the campaign.
He said "This is great day and I believe there are even better days to come."
An independent Scotland would be one where "we all get to pursue our own individual dreams and ambitions and hopes".
He added: "It will also be a country where we look out for one another, and that's what it is all about, the kind of Scotland we want to give to our children and our grandchildren."
Trade unionist Tommy Brennan, who fought to try to save the Ravenscraig steel works, declared publicly for the first time that he was backing independence.
Brennan said: "I have no doubt we have the resources, the talent, the ingenuity and the skills to prosper as an independent nation."
He went on: "I have no fears or qualms about the referendum, or independence. The people living in this country will make the decision in the first instance."
Former Labour MP and independent MSP Dennis Canavan also told how he had become a "convert" to independence.
He said that after 25 years at Westminster and eight years as an MSP at Holyrood, he had come to the conclusion that the London parliament was "completely out of touch" with Scotland.
He said the Scottish Parliament had "proved to be far more radical and far more progressive than Westminster".
Independence would give the Scottish Parliament and Scottish Government the "economic muscle to do much more", he added.