Up to 45% of those following the world's biggest companies on Twitter are fake users, a study has revealed.
Some companies might even be inflating their accounts by purchasing 'bots' in bulk, the study claimed - though none have been accused of wrongdoing.
An analysis of the Twitter followers accumulated by brands including Coca Cola, BlackBerry and Dell showed that a large number were in fact 'bots' controlled by computers.
Twitter has previously admitted problems with automatic account registrations and spam affecting its service, and has actively worked to root out the 'zombie' accounts.
But according to the study by Italian professor Marco Camisani Calzolari, at the University of Milan, a large number of bots still persist and flock to the world's biggest brands.
The company with the largest percentage of bots looked at by Calzolari was Dell.
According to the study more than 45% of those following its @DellOutlet account were found to be bots, after an analysis of where they logged in and how they used the service.
Just 30.2% of Dell's followers were confirmed to be humans, the study said.
Other companies with high rates of bot followers were American food retailer Whole Foods (44.3%), JetBlue (36.6%) and EA (29.%).
Those with a lower rate of bot followers including CocaCola (116%) and Starbucks (6.9%).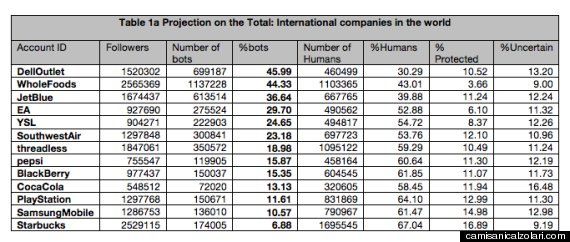 Above: the details of the findings.
In the study, Calzolari said that some companies could be inflating their accounts by purchasing followers.
None of the companies in the study have been accused of doing so - and several have denied it - but Calzolari said the pressure to increase follower counts made purchasing bot followers a natural move.
"Comparisons with their competitors, in terms of number of followers, has led some companies, whether directly or indirectly through intermediaries, to purchase followers for the sole purpose of increasing the overall number. The high demand has created an international market for selling followers, real or otherwise," he wrote.
"The market offers totally fake followers, in other words created by bots, i.e. robot software programs capable of generating vast quantities of accounts created ad hoc, which then become the followers of those willing to pay for them. It is not possible to distinguish a fake follower from a real one with utter certainty.
"However, it is possible to identify characteristics and behaviours that are typical of real users and of bot users."
Richard Binhammer, the company's Social Media Relations manager told MediaBistro:
"We don't control who follows any of our Twitter accounts and we don't artificially increase the number of followers.
"In fact, paying third parties to undertake such action is contrary to our policy. While there are some tools that claim to identify bots, they are not 100 percent accurate.
"The only action we could take is to 'block' a follower. We certainly would not want to risk 'blocking' a potential customer. Our focus is on relationships and engagements with customers."