If there's one thing that epitomises modern technology, it's the strive towards portability.
You may lament some aspects of this progression of technology, but the truth is that there are some fantastic products now available that now enable us to actually work solely from our bags - if you wanted to.
Obviously, you need to start with a pretty special bag, and what could be better than a backpack that can keep all your precious tech charged and ready to go?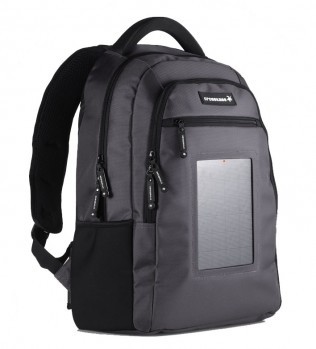 Not only can it give you a quick burst of battery power when you need it most, but this clever backpack is also solar-powered and even recharges itself on trickle charges on those dull, rainy days.
It has a 3kw solar panel installed on the front face and stores the energy on a battery pack inside. You then plug in whatever device you need to charge, whether it be a Micro/Mini USB, Apple, Samsung, Nokia or TomTom connector. With 25-litres of space there's plenty of room for your other documents and, more importantly, your packed lunch.
It comes with a rain cover to make it waterproof and the high-grade ballistic nylon shell is plenty tough enough for the daily commute. With a 2-hour charge time for many smartphones, mains-free connectivity has never been so easy. For business users it's a no-brainer. But even for frequent travellers, gamers and anyone who wants to use electronic equipment without the constant niggle that their battery is depleting, it's the perfect solution.
The Crosskase Solar 15 is priced at £139.99 inc VAT RRP, and is available now from here.
ClickMate PowerPlus for iPhone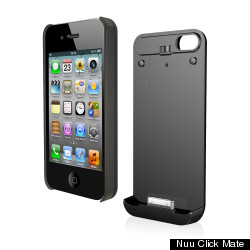 It's all very well having a smart backpack that can charge your laptop when you've left the lead at home and need it for an important presentation, but what if your battery-supping iPhone also needs a charge?
That's where the Clickmate PowerPlus comes in. It's a slim detachable battery pack that can give you nearly a whole day's worth (22 hours) of talk time simply by clicking it on to your mobile. Compatible with the iPhone 4 and 4S, you can turn the charger on and off with an integrated button and then relax as it gives you up to 30 hours of video and eight hours of Wi-Fi usage.
The ClickMate PowerPlus also shuts off power to avoid damaging your phone's battery through overcharging or shortcircuiting. A set of lights on the case show the battery's charge progress and the PowerPlus is simply charged via a Micro USB. Naturally, it's available in matte black or glossy white with silver touches to flow with the design of your coveted iPhone.
ClickMate also do an iPhone case which is also a wallet - in case you're particularly prone to lose your cards.
The PowerPlus is £69.99 and available from here.
New Macbook Pro
No mobile office would be complete without a laptop, right? Perfect timing then that the new release from Apple is now deemed the ultimate in portable computing.
The big news is that the new Macbook Pro's Retina Display now packs more of a pixel-punch than your HD TV, three million more to be precise. And by all accounts, it's stunning. Other tricks up its sleeve include the 7-hour battery life, a 2.3 GHz quad-core i7 processor with 8GB of 1600MHz DDR3L of onboard memory and up 768GB of flash memory (the option of a hard drive has been ditched). Not only does this save on weight and space, it makes the machine super-fast. The lighter, thinner aluminium case now beats the current 13-inch Macbook Pro in proportion and houses a USB3 port, a HDMI and SDXC port.
It doesn't start cheap - it's £1,800 for the base model. But oh, how beautiful.
iPad and accessories
While the new Macbook Pro is the most advanced machine yet and will tackle any kind of intensive video or photo production with ease, sometimes you just need a device capable of browsing the web and sending a few emails. We all know by now that there's little on the market that can get even close to the new iPad when it comes to convenience, which is why it's an office in a bag essential. In fact, many people could rely solely on the iPad as a business and communication tool, and there's a couple of accessories we'd recommend getting if you plan on doing this.
While the touchscreen keyboard is incredibly easy to use and pretty intuitive, an Apple wireless keyboard can make a big difference to your typing speed.
Or you can use the roll-up rubber Bluetooth keyboard by Scosche - water resistant and hardy enough just to stuff in our backpack.
Similarly, the Twelve South BookBook case for iPad will keep it safe and secure, and it looks the part too. Handmade and hardback, it doubles as a fully-adjustable stand and is much more interesting to look at than the usually boring black cases otherwise available. Better yet, prying eyes and swift fingers will be fooled as the case convincingly masks your iPad as a vintage book or journal.
xPrintServer Home Edition: Printing Made Bearable
Devices and touchscreens are all well and good. But occasionally, even now, you need to actually print something.
Annoyingly, the print functionality inside iOS is pretty pitiful - not all printers work, and the iPad rarely plays ball.
The xPrintServer Home Edition is a simple solution. Plug this into your computer, connect to your networked printer with your iPad and everything works seamlessly. There's no software to install and you can use many printers at once.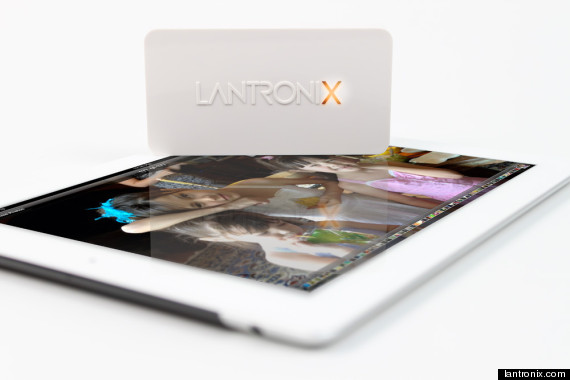 Harman kardon headphones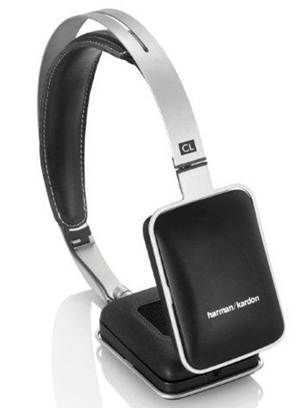 Of course, the office in a bag would not be complete without a decent set of headphones, whether it's just for watching videos, listening to reports or dialling in to video conference calls. The new range of Harman Kardon headphones mirror the design of the iPhone and iPad, are lightweight and fold up so that you can store them easily without them getting damaged. The range-topping headphones are pretty special and come with Bluetooth connectivity so you can do away with yet another wire – hooray!
You can also charge the headphones via USB (making that solar bag even more useful) and if the 12-hour battery dies when you need them, there's even a fabric-covered cable provided to plug in to your device. Built-in playback buttons and an integrated microphone make this model of the best on the market.
So there you are. All you need is a bag and some clever tech to go completely mobile. If you think there are any gadgets that should be on the list, let us know below.