Banks are anti-business and are throttling the economic recovery, Business Secretary Vince Cable said on Sunday as he claimed the Government's reforms would not tackle the industry's obsession with short-term trading profits.
Mr Cable said quantitative easing alone was not going to kick-start the economy and attacked the banks for failing to lend to businesses desperate for loans to expand their operations.
He said the Government was reforming the system with legislation to be introduced early next year by ringfencing retail operations from so-called casino banking.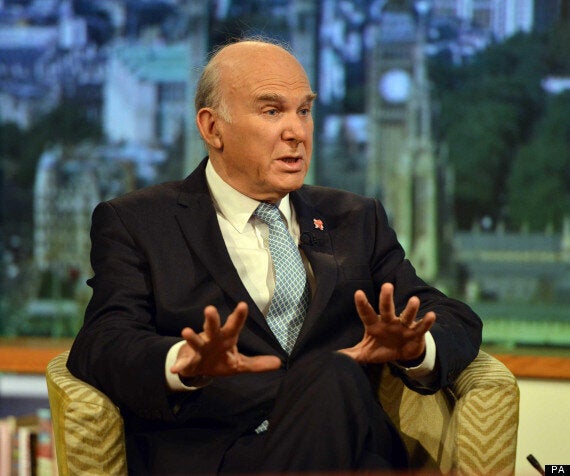 Banks are anti-business and are throttling the economic recovery, Vince Cable said
And ministers would break the monopoly of the major players in the industry but it would not be enough to deal with the anti-business culture in banking.
Speaking to the BBC's Andrew Marr, Mr Cable said: "We are under this Government creating a more competitive bank system.
"This is new, it's important but it's slow. It doesn't unfortunately deal with the real problem at the moment, which is that the banks, because of their existing culture, which is frankly anti-business, obsession with short-term trading profits, not focusing on the long term, are actually throttling the recovery of British industry.
"While this debate was going on last week, I was appalled as I was going around firms in the north of England - super companies which have big export potential, got orders - and they just cannot get a loan from the bank to finance their exports and expansion.
"This is the issue that we have got to focus on."
Mr Cable also said he supported the announcement by Chancellor George Osborne and Governor of the Bank of England Sir Mervyn King to launch a new lending scheme to boost lending to businesses.
He added: "Quantitative easing is necessary but not sufficient. It's the necessary thing for the Bank of England to do and the Bank of England has been very supportive of the economy throughout this terrible crisis, which is good.
"But as you (Mr Marr) quite rightly say, there has been a breakdown in the mechanism, in the transmission, it's just doesn't get through to companies.
"We are going to have to ensure that the new money that the Chancellor and the Governor at the Bank of England talked about at the Mansion House does actually now directly reach the companies."