Bank of England deputy governor Paul Tucker has given former Labour ministers Ed Balls and Shriti Vadera a huge boost by telling MPs that he had no conversations with them about Libor-fixing during the height of the banking crisis in October 2008.
Paul Tucker's evidence - including a startling claim that he had no conversations with former business minister Baroness Vadera during that period - came as he answered a series of questions from MPs, insisting that he "absolutely" refuted claims he attempted to influence Barclays into manipulating the Libor rate.
Speaking before the Treasury Select Committee, Mr Tucker also said that a record of a contentious phonecall he had with former Barclays boss Bob Diamond about lending rates gave the "wrong impression".
However later evidence would suggest that the Bank of England had been aware that banks had been artificially setting Libor low - a practice known as "low-balling" - in 2007, but Tucker claimed they'd concluded it showed the system was "dysfunctional", not that anyone was being deliberately fraudulent.
Describing the Libor scandal at Barclays as an "absolutely massive shock," Mr Tucker confirmed one of the Whitehall figures was the-then Downing Street chief of staff Sir Jeremy Heywood but denied he had attempted to influence Barclays into rigging rates.
Barclays has been the focal point for a row over banking culture after the bank was fined £290 million by UK and US regulators for manipulating the Libor, which affects mortgages and loans.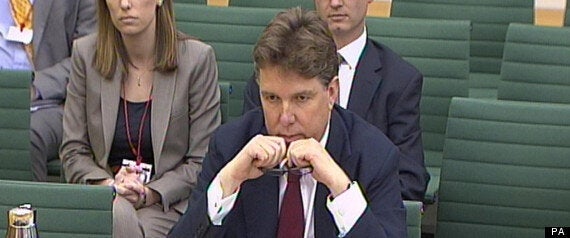 Paul Tucker told MPs that the Libor scandal had come as a "deep shock" to the Bank of England
Mr Tucker said that the senior Whitehall figures with whom he spoke about Libor included Sir Jeremy, his predecessor as Number 10 chief of staff Tom Scholar, then Downing Street adviser Sir Jon Cunliffe and Treasury permanent secretary Sir Nicholas Macpherson.
But he denied "absolutely" that any Whitehall officials or government ministers - including Ed Balls and Baroness Vadera - ever encouraged him to "lean on" Barclays or any other bank to lower its Libor submissions.
Mr Tucker said that concerns about Barclays' submissions existed at the time he spoke to Mr Diamond in October 2008 not only in Whitehall but also in the markets.
After the launch of a package of co-ordinated international efforts to shore up the markets early in the month, both officials and markets were monitoring Libor and found that - compared to many other participants which had lowered their submissions - "Barclays continued to pay higher rates in the market, as reflected in their Libor submissions".
Attention was focused on the issue of whether Barclays had taken the right decision in declining the state support which was accepted by rivals RBS and Lloyds.
And there was concern that, by paying higher interest, the bank might be dampening down the overall impact of the rescue package.
Mr Tucker told the committee: "There were two separate and related concerns, not only from Whitehall but from within the bank and within the market.
"One was: 'Is the package working and why isn't it working here as quickly as it appears to be working in the US?'
"The other element was: 'Is Barclays OK? Was the right decision taken when Barclays didn't take capital from the Government?'
"There was a degree of concern about that. There was a degree of anxiety about that."
Mr Tucker said he believed that the rescue package "helped save the world", but added: "At the time, there was anxiety about it working."
Responding to the apparent endorsement of Balls' side in the story Chris Leslie MP, Labour's Shadow Financial Secretary to the Treasury, said the "game was up" for George Osborne.
"The deputy governor of the Bank of England has made it 100 per cent clear that neither Ministers nor officials leaned on the Bank of England to ask Barclays to fix Libor rates. In addition Bob Diamond has also said that he did not believe he was being asked by Ministers or officials to fiddle Libor rates."