The chairman of the Northern Ireland Parades Commission has dismissed criticism of his decision to allow to rival protests to go ahead in Belfast on Thursday night as "compete and utter nonsense."
More than 20 police officers were injured on Thursday night as a band of Orangemen marched through the nationalist Ardoyne district.
Close to a dozen shots were believed to have been fired at police, as well petrol bombs and bricks thrown at police. The police responded with water cannon and a total of six baton rounds, while also making six arrests.
Politicians on all sides, including Northern Ireland's First Minister Peter Robinson, had criticised Parades Commission decisions which meant the Orangemen having to return early from the main Twelfth of July rally in the city - and allowing a parade by local residents to go ahead in the same place two hours later. Dissident republicans, many of them from outside the area, were among the crowds.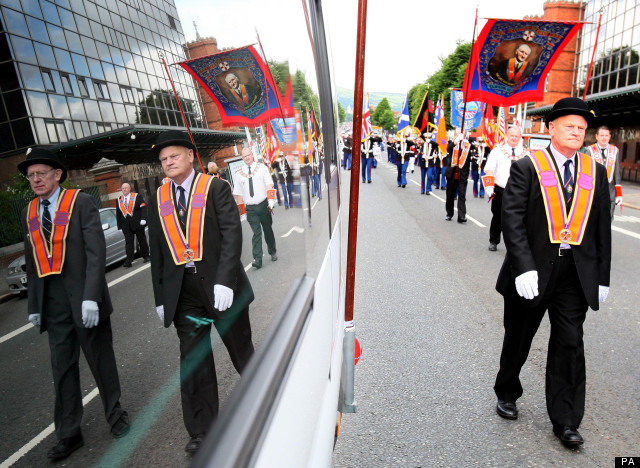 The evening's violence was a far cry from the peaceful parades during the day
The Commission was established to adjudicate on contentious marches, and even though there has been major trouble at this particular Catholic/Protestant flashpoint every year for over a decade, the chairman Peter Osborne said given the circumstances, the rulings were correct.
Osbourne told BBC Radio Ulster that it was "complete and utter nonsense to blame the Parades Commission for the violence last night. There has been violence in this location for many, many years now."
He added: "It is time for politicians to take ownership of contentious parades... that's the way forward."