When an official Twitter account appears to send out a dubious, mysogynistic tweet, and then claims it was a result of hacking, it sounds like an excuse for a mistake by a junior employee.
But the @BBCSuffolk Twitter account, with almost 5,000 followers, was apparently hacked for real on Wednesday night.
The mysterious post read "The weirder Rihanna's tattoos get, the less I blame Chris Brown."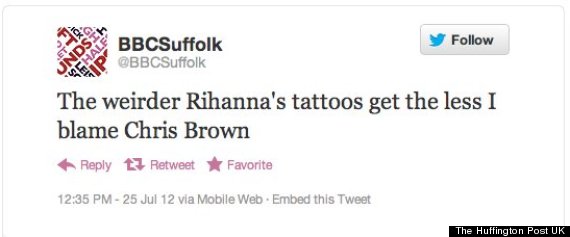 The broadcaster quickly apologised when the tweet was sent just after 9pm.
They later posted:
But the offensive tweet went viral and prompted an angry response from Twitter users, who retweeted it hundreds of times.
Many speculated a BBC employee had mistakenly posted the bad-taste tweet from their work Twitter account, instead of their personal one.
But the BBC press office said the tweet was a well-known hack, and had been appearing on users Twitter accounts since early July. The text had originally included a spam link. Twitter users posted screen grabs of previous tweets that were previously hacked.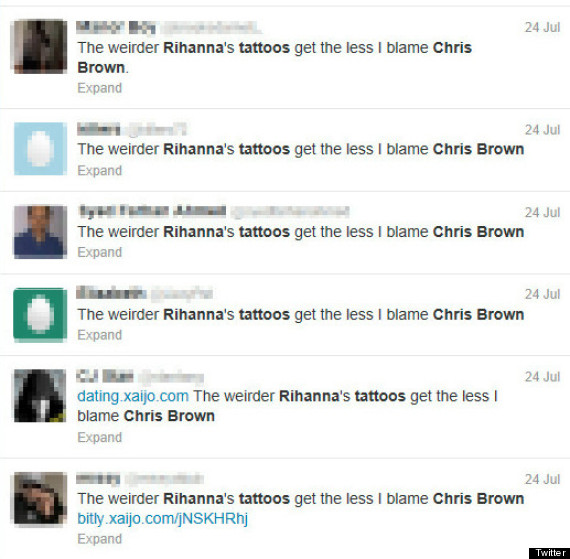 Other Twitter users posted screengrabs which appeared to prove BBC Suffolk were hacked
A BBC spokeswoman said: "If you look far enough back, the tweet has been seen endless times on other people's twitter accounts. We sincerely apologise that such an offensive tweet ever appeared on our Twitter feed."
The spokeswoman would not comment on steps that would be taken to improve online security for BBC accounts.