Human Rights Watch have accused the Free Syria Army of committing potential war crimes as videos emerged of rebels "executing" supporters of President Bashar al-Assad in the beleaguered city of Aleppo.
YouTube videos have been posted of rebels lining up Assad supporters and appearing to shoot them at point blank range.
Separately, loyalist troops are said to have shot civilians in a Damascus neighbourhood, who have now been buried in a mass grave.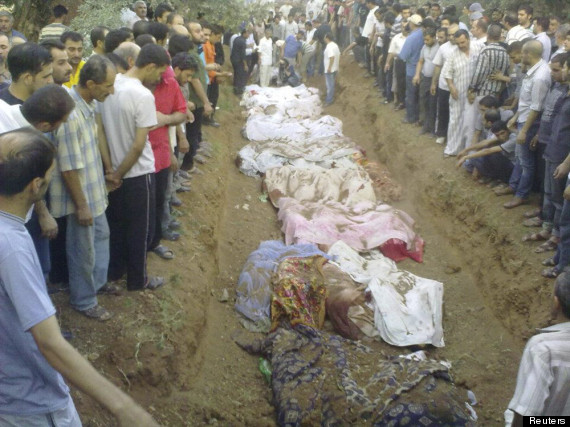 People gather during the mass burial of people whom activists say were killed by forces loyal to Syria's President Bashar al-Assad, in Artouz, near Damascus
Details of the ongoing extreme violence across the country have emerged as Russian President Vladimir Putin arrived in London for talks at Downing Street with British Prime Minister David Cameron on how to resolve the Syrian conflict.
Their meeting comes two weeks after Russia and China vetoed another United Nations resolution to attempt the end the violence.
Around 135 people are believed to have been killed in the country on Wednesday, following more than 120 reported dead the previous day.
Videos of the killings by the FSA purport to show the execution of several members of a prominent Aleppo Sunni family, the Barri clan, who are supportive of Assad.
One of the videos showed the men, many with blood on their hands and faces, lined up in a school against a wall decorated with cartoon characters, and accused of being members of Assad's armed gangs.
Shots are fired at the men for around one minute, and slumped bodies can be seen on the floor.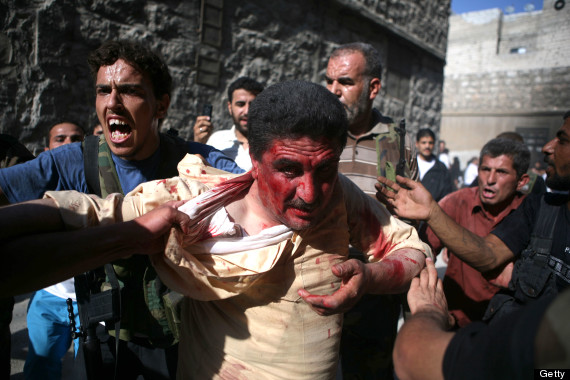 Fighters capture a policeman in Aleppo who the FSA allege is a pro-regime militiaman
HRW's Middle East deputy director Nadim Houry said the executions could be viewed as a war crime: "Intentionally killing anyone, even a shabiha [a member of Assad's armed gangs], once he is outside of combat is a war crime, regardless of how horrible the person may have been.
"As the opposition gains more territory, it is important to hold them to the same standard that we would apply to all sides."
His comments caused furious debate on Twitter, with people arguing the killings were part of the rebels' struggle.
Bashir al-Haji, spokesman for the rebel Tawhid Brigade, told the Guardian the execution of the Barri clan members was in retaliation for the killing of 15 rebel soldiers on Tuesday.
He said: "We were able to kill 20 of them and arrest another 50. We held a field trial for them.
"We have judges and lawyers who are in the opposition.
"They found that seven of the Berri clan were involved in killing and they decided to execute them. Others are being kept for trial after the collapse of the regime."
Assad's forces are said to have executed 35 people, mainly unarmed civilians, in a Damascus suburb.
A local resident told Al Jazeera the Assad forces went from house-to-house, and that people were "executed with bullets to their face, head and neck in homes, gardens and basements.
"They seem to have been looking for activists or young men with a certain profile to execute."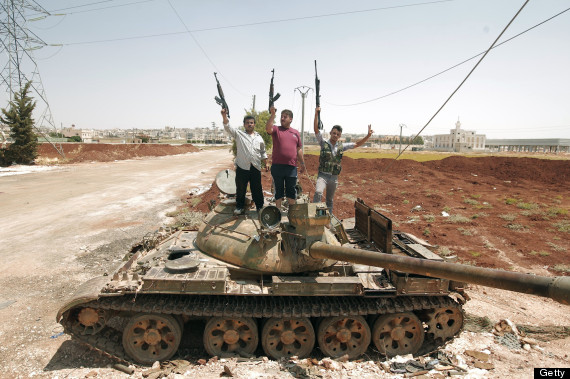 Syrian rebel fighters stand on top of a government tank captured two days earlier
Locals told reporters that the bodies of the dead were laid out at the Omar bin al-Khattab mosque and buried in a mass grave dug by a bulldozer owned by a local farmer.
The FSA are believed to now be using heavy artillery, having captured a tanks and armoured vehicles.
Aleppo, once one of the country's most peaceful cities, has emerged as the central battleground.
The FSA's military chief in Aleppo, Colonel Abdel Jabbar al-Oqaidi told AFP: "The regime says it is fighting 'terrorist groups'. We tell the regime that we will chase them because they are the terrorists. We will go after them in the whole of Aleppo, until the city is liberated."
US President Barack Obama has signed a secret order authorising US support for the Syrian rebels, souces told Reuters. The order permits the CIA and US bodies to provide support to help the FSA.
WARNING: GRAPHIC VIDEO WHICH MAY DISTURB VIEWERS