The jitters the nation was feeling after the first day of the Olympics, when Mark Cavendish lost out in the road race and our medal tally stood at nought, now seem ridiculously paranoid.
Team GB's gold medal haul is now the best its been in an Olympic games since 1908.
It stands at an astonishing 22 - three more than the Beijing 2008 total - after Britain's equestrian team claimed its first ever win in the dressage, Laura Trott landed gold in the women's omnium and Sir Chris Hoy pedalled to victory in the keirin.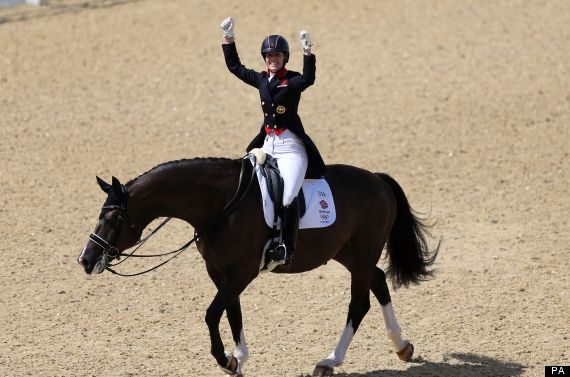 Charlotte Dujardin celebrates her win
Great Britain also has 13 silvers and 12 bronzes, bringing the total number to 47, two more than Russia.
However, Russia, which lies fourth in the medal table, has, at the time of writing, "only" won eight gold medals.
The equestrian trio, made up of Olympic veteran Carl Hester, Laura Bechtolsheimer and Dujardin, beat stiff competition in the final.
Charlotte Dujardin was last into the ring and her fine performance in the highly-technical discipline made equestrian history, too - it is the first time the team has won gold in every equestrian event.
The 26-year-old is the youngest member of the British dressage team and has only been taking lessons in the sport since 2007.
The last seven Olympic titles have been won by Germany.
The previous best Olympic team performance was a sixth place finish at the Beijing Games.
The gold is a career-crowning moment for veteran rider Hester, 45, who has now contested four Olympics.
ALSO SEE:

Chris Hoy Wins Sixth Olympic Gold Medal At London 2012 To Become Britain's Greatest Olympian

Alistair Brownlee Wins Gold In Triathlon While Brother Jonathan Denied Silver By Penalty (PICTURES)
The dressage star, from Newent, Gloucestershire, set a new Olympic record with today's test on his horse, Uthopia, only to have it beaten by Dujardin, his protege.
He said: "We've done what we've wanted to do, it's been a very stressful time for me through this whole thing.
"Obviously Charlotte relishes this whole thing, it's an absolute joy to her to be here and she sleeps like a baby at night whereas I get up at 1.30am like I did this morning thinking about how the day's going to go."
Dujardin said: ""It's surreal because obviously I only started January last year and I got a gold medal at the Europeans and it was the ultimate dream to get here and ride here."
Speaking of her pride in her mount, she added: "He is a once in a lifetime horse, he is unbelievable, just very special."
Dujardin's sensational ride came after Bechtolsheimer, 27, from Ampney St Peter, Gloucestershire, gave a solid performance riding Mistral Hojris, known as Alf.
She said the atmosphere in the arena had almost been too much for the 17-year-old horse.
But she added: "He really gave me the power of a young horse.
"That makes me feel very emotional, very proud of him."
The gold medal is the third triumph for Team GB's riders who took silver at the eventing last week.
The gallery below shows every one of Team GB's medal winners.