Croydon police have told the stricken community of missing schoolgirl Tia Sharp that their priority is to identify the body found at the 12-year-old's grandmother's home, and to find Christine Sharp's boyfriend, Stuart Hazell.
Floral tributes were delivered to The Lindens, where the police found the body on Friday night.
Commander Neil Basu, the area commander responsible for south east London, said the police would support Tia's family.
He said: "Clearly there will be many questions about the investigation into Tia's disappearance and I want to take this opportunity to clarify some of the speculation.
"When police investigate cases as difficult and challenging as this, it is important that we do not just focus on one line of inquiry.
"For example we had over 60 reported sightings of Tia, 800 hours of CCTV footage to examine and 300 plus calls into the incident room. All of these lines of inquiry were in the process of being followed up.
"A number of searches took place at the address. When Tia was first reported missing, officers searched her bedroom as is normal practice in a missing persons inquiry. A further search of the house took place in the early hours of Sunday morning by a specialist team.
"This was then followed by another search of the house by specialist dogs on Wednesday lunchtime.
"What we now need to establish is how long the body had been in the place where it was found. This will be subject of the ongoing investigation and it would be wrong to jump to any conclusions until all the facts have been established.
"Throughout the inquiry, we have liaised closely with Tia's family. We have kept them updated and have provided support at all times. Today's pre-planned search was undertaken with their full co-operation.
SEE ALSO: The Disappearance Of Tia Sharp In Pictures
"Our priority now is to establish the facts of the case and to assist us with this, we are keen to speak to all those people who last saw Tia. In particular, we want to trace Stuart Hazell as a matter of urgency.
"We have issued a picture of Mr Hazell and would urge anyone who may know his whereabouts to contact police via 999 and not to approach him.
"We would like to thank the public for all of their help and continued assistance at this difficult time and we will keep you updated."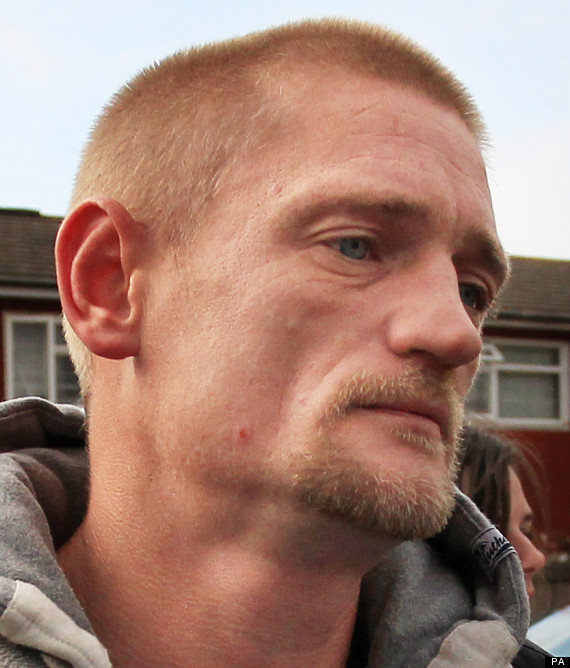 Police are searching for Stuart Hazell and have warned the public not to approach him
Close to the house, two laminated portraits of the schoolgirl were stuck to the side of a garage wall and bouquets of flowers were left.
Lighted candles were also laid on the ground and fluttered in the wind.
One card attached to a bouquet read: "Rest in peace, Tia Sharp.
Dozens of scented candles and tea lights, which were previously left at a nearby bus stop, were carried to the make shift shrine.
A card read: "Tia, may your precious little soul now rest in peace."