Britain's athletes completed their most successful Olympics for 108 years with a silver medal in the final event of London 2012.
Samantha Murray took second place in the modern pentathlon bringing Team GB's final tally to 65, with an incredible 29 golds, 17 silver and 19 bronze, and the team in third place in the medal table.
It was one of three medals for Team GB on Sunday as super-heavyweight boxer Anthony Joshua won Britain's final gold and boxer Fred Evans took a silver. Samantha Murray won Britain's last medal of the 2012 games
Even the Queen was impressed, with the monarch saying Team GB's success - the best performance in more than a century - would inspire a new generation of Olympians and remind everyone how sport "unifies communities and nations".
"As a nation, we now look forward to the Paralympic Games and wish all athletes every success," she said. Gold and silver winning Andy Murray
Murray, 22, from Clitheroe, Lancashire, ran, shot, showjumped, swam and fenced her way to an unexpected second place.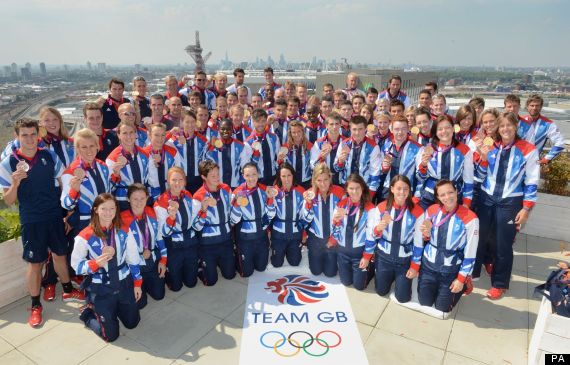 Team GB athletes pose on the roof of Team GB House with their medals in Stratford, London
Four years ago she had considered walking away from the sport completely, taking a two-year break.
She told the BBC: "Honestly, if you have a goal, anything you want to achieve in life, don't let anybody get in your way, you can do it.
"There are so many people and so many things that will feel like they're trying to set you back but honestly, find the path you want to take in life and follow it, stick to it because if I can do it - I'm a normal girl - anybody can do anything they want to do." The joy of six: Medal winning Sir Chris Hoy
An ecstatic Joshua, 22, raised his hands in triumph while his cornerman and coach went wild along with the 10,000 crowd in the ExCel.
Joshua said: "I pulled it out of the bag, my heart is still pumping. Sunday is a holy day, and I was blessed."
Another medal was won in the ring today when 21-year-old Welshman Fred Evans took silver after a brilliant Olympics in which he exceeded expectations. Jessica Ennis kisses her Gold Medal after winning the Heptathlon
Evans, from Cardiff, said: "Obviously I'm still young, I'm only 21 - I'm one of the youngest seniors here - so I've done well and I'm over the moon with getting to the final."
We know Team GB are pleased - with athletes recording their own version of 'Don't stop me now.'
Meanwhile David Cameron said the Olympics proved that Britain could "deliver."
The Olympics will climax with the closing ceremony later on Sunday, with Games organiser Lord Coe urging the nation to "party, party, party" when the musical extravaganza gets under way. Double gold medal winner Mo Farah
The handover from London 2012 to the Rio 2016 team will take place along with the extinguishing of the flame, signalling the end of the Games.
Traditionally, it is a chance to celebrate what the athletes have achieved and also for a massive party.
The 2012 closing ceremony - called A Symphony Of British Music - will celebrate music as one of Britain's strongest cultural exports over the last 50 years.
Many of the 10,000 athletes will be involved and will reportedly file past spectators along the aisles of the arena before gathering around the central stage in their own "mosh pit".
Artistic director Kim Gavin said: "We want it to be the best after-show party there has ever been."
The two-hour, 45-minute grand finale will start with Elgar and Waterloo Sunset at 9pm.
Pop stars expected to perform include the Spice Girls, George Michael, the Pet Shop Boys, The Who, Jessie J and Tinie Tempah.
Ben Ainslie, the most successful sailor in Olympic history, will carry the flag for the British team at the ceremony.
London 2012 saw the 35-year-old win his fourth consecutive gold to add to the silver he won in his first Olympics as a 19-year-old in Atlanta in 1996.
SEE ALSO