More than a third of Team GB's medallists were educated at private school, new figures show.
Among those who claimed gold in their sport, more than one in four attended fee-paying schools.
The figures come as Labour pledged to reintroduce compulsory competitive sport in all state schools, to level the playing field.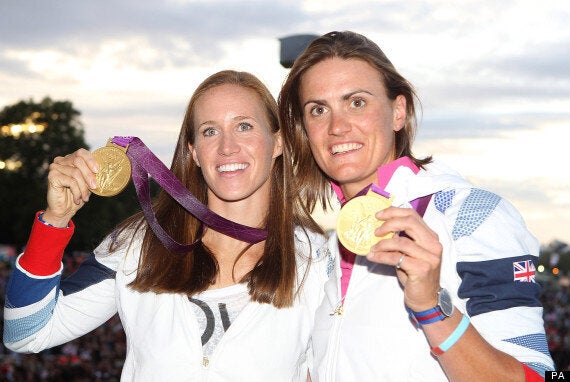 Helen Glover (left) attended independent school Millfield; Heather Stanning was a pupil at fee-paying Gordonstoun in Scotland
In an effort to build on the sporting success achieved by Team GB at the London Olympics, David Cameron has said competitive team sports should be included in the national curriculum for primary-age children.
But Labour said this will not apply to more than 113,000 primary age children in free schools or academies and pledged to close this loophole if the party took office.
In many state schools, sport is not a priority, which means independent schools with top-notch facilities are often the ones that produce elite athletes, the new research by the Sutton Trust suggests.
The government scrapped Labour's weekly two hours of PE target, with Cameron claiming the time was sometimes used for activities such as "Indian dance" rather than recognisable sports.
The most recent government survey of primary schools found more than 10,000 primary schools had fewer than half of their pupils competing against other schools three or more times a year and 1,950 had none at all.
A new draft PE curriculum, to be published in the autumn, will make it compulsory to take part in what Downing Street called "recognised and recognisable sports" such as football, hockey and netball.
It will also prescribe "team outdoor and adventurous activity".
This is despite the private sector educating just 7% of the school population.
The Trust's figures show that 37% of Team GB medallists went to private school in Britain.
Around 27.5% of gold medal winners were privately educated, it concludes.
In total, 43 Team GB athletes won at least one gold in 29 events. David Cameron has pledged to re-introduce compulsory "recognised sport"
Sutton Trust chairman Sir Peter Lampl said: "While we congratulate all our Olympic winners, this research shows that independent school students are more than five times over-represented amongst our medal winners relative to their proportion in the population - which is also the case at leading universities and in the professions more generally.
"This comes as no surprise as children in independent schools benefit from ample time set aside for sport, excellent sporting facilities and highly qualified coaches, while in many state schools sport is not a priority, and sadly playing fields have been sold off."
The study also shows that one in 10 British Olympic winners who attended a British university went to Oxford or Cambridge, and three fifths (60%) went to one of the nation's top selective universities.
Just days ago, Lord Moynihan, chairman of the British Olympic Association, called for an urgent overhaul of school sport policy.
He said it was "one of the worst statistics in British sport" that more than 50% of the gold medals in Beijing four years ago were won by products of independent schools.
"It is wholly unacceptable that over 50% of our medallists in Beijing came from the private sector. It tells you that 50% of the medals came from 7% of the population.
"There is so much talent out there in the 93% that should be identified and developed. That has got to be a priority for future sports policy. I have spoken about it many times and I will continue to speak about it until there is not breath left in me."
At the last Olympics one third of Team GB went to independent schools, nearly 40% of British medal winners, and 50% of gold medallists.
They included multiple gold medallists Sir Chris Hoy, a product of George Watson's College in Edinburgh and Ben Ainslie, who went to Truro School in Cornwall - both of whom won medals at the London Games.
Many of the equestrian team that competed this summer went to fee-paying schools.
But all of Team GB's boxing medallists (whose schools are known) went to state school, including gold medallists Anthony Joshua, Luke Campbell and Nicola Adams, according to the Sutton Trust's research.
Athletics gold winners Greg Rutherford, Jessica Ennis and Mo Farah were also educated in the state sector.
The reasons for the disparity with state schools is that private schools can usually afford to devote more time to sport, and have better facilities and often top-class coaches.
That is especially the case in sports when the basic cost of taking part is high, such as equestrian events and sailing.
Related