Defence secretary Philip Hammond has suggested the failure of security firm G4S to fulfil their contract to guard the London 2012 Olympics has made him rethink the role the private sector might play in the military. His comments will be seen as an signal that government plans to privatise parts of the MoD which deal with equipping and supplying troops could be reviewed.
Hammond's comments in an interview with The Independent come as a senior military planning officer has warned that the Army could take up to two years to recover from its expanded role in securing the Olympics.
Philip Hammond told The Independent on Tuesday: "That's the thing that I'm learning – that the application of the lean commercial approach model does have relevance in areas of the MOD but equally you can't look at a warship and say 'How can I bring a lean management model to this?' – because it's doing different things with different levels of resilience that are not generally required in the private sector.
"We don't ask the military to prepare to maybe be able to do something or to have an 80 per cent chance of delivering. We ask the military to be in a position that, if we ask them to do a task, they are absolutely able to do it for us," Hammond told the paper. The Army was always due to play a part in the Olympics but far more soldiers were drafted at the last minute
Hammond is widely respected within government but his appointment as defence secretary last year left military top-brass nervous, thanks to his well-known belief in a smaller state and greater private sector involvement in public life.
But in his interview published on Tuesday Hammond suggested that security queues at the Olympics had been smaller than expected because they'd been run with military efficiency.
"G4S were literally hiring people and expecting to deploy them three days later. They were trying to build up a management structure overnight and they placed a lot of dependence on the work force – for example getting them to schedule their own shifts by accessing an internet site.
"The military came at it from the exact opposite extreme. 'What's the job that needs to be done? OK, we'll do it. Whatever it takes we'll provide massive resourcing.'
"And that's why everything has operated so smoothly. When you go through these search lanes everything hums. That's because for every three people doing the work there is one watching them and there are two other watching him."
Unions expressed concern about the idea, suggesting the procurement process should remain in the public sector.
Wing Commander Peter Daulby said the unexpected more than doubling of troops sent to manage security at the games was a "game-changer".
"We had to generate 18,000 people. That does not mean that there are 18,000 spare people. It means that the government has prioritised [the Olympics]," he said.
"It will take two years to recover from this, to get back to normal, to get everything back into kilter. You can't expect them to go back to normal routine very easily."
Despite failing to deliver its end of the Olympics security contract, G4S boss Nick Buckles insists he will still claim his management fee, initially thought to be as much as £54m. The government has indicated it will exact penalty clauses in the contract to reduce the fee, but won't say how much it is likely to be cut by.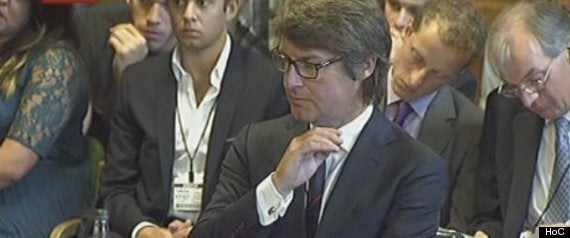 Buckles says the reputation of G4S is "in tatters" but he will still take his massive management fee
Robertson also refused to express confidence in Nick Buckles, who will be under pressure to quit once the Paralympic Games are complete.