Identical twins have overcome a family tragedy to gain identical A-level results in order to pursue the same degree... at the same university.
Alec and Jack Trigger both scored an impressive A* and three A grades in their A-levels and were "chuffed" with the results. The pair were awarded places at Wellington College as part of the school's foundation trust after the death of their army brigadier father, Richard 'Dick' Trigger MBE.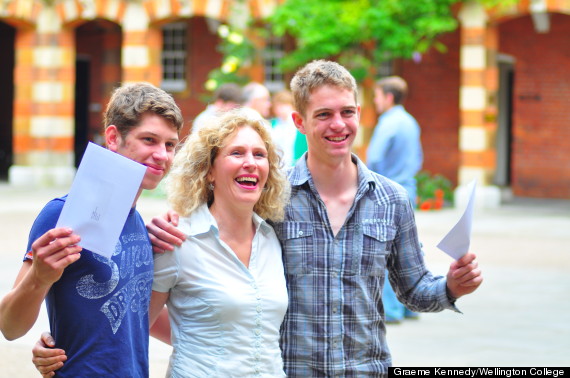 Alec and Jack celebrating their results with their mother
Their mother was on hand to help celebrate their achievements and said: "I am completely thrilled with the results and with the Wellington Foundation which made it possible. I so want to make the Foundation known – because it has given my boys the most amazing opportunity."
The pair are destined for Oxford University, where they will study engineering.
Alec added he was "seriously chuffed" with his results, and said he and his brother were both "really excited" about going to Oxford and starting their degrees.
Deputy head Jane Lunnon said: "Although Alec was only one mark away from an A* in one of his subjects, I did point out to him if he'd got that, he would no longer have exactly the same grades as his twin!"
"Apparently the same thing happened at GCSE – until Jack's drama was re-marked and went up a grade."
The boys belong to the last non-selective year at the school, which is now the country's top co-educational large boarding school. The school offers almost fully funded Foundationer places to children who lose a parent who has served in the military or in public services such as the police or fire brigade.
SEE ALSO: