We're in Edinburgh for the final week of the Fringe, and we've never seen so many stars. And we don't just mean Tim Key in the Pleasance Courtyard bar or Al Murray on Waverley station platform.
We mean the stars that have been added to show posters. The show posters that are everywhere.
Yes, anyone who's earned a four- or five-star review from a paper or website has now added said stars to their posters. Which is understandable - tension is mounting ahead of the Foster's Comedy Award on Sunday (with nominations coming out on Wednesday), and the Bank Holiday weekend is likely to see thousands of extra punters descend on the city with limited cash and time. Both of these things mean that, more than ever, performers need their posters to scream 'Look! This show is good! Everyone says so!' - and there's no quicker, easier way to show this than by slapping star ratings all over it.
Unfortunately, however, it doesn't necessarily mean that your show will now stand out in the crowd - because guess what? Everyone around you is slapping star ratings all over their posters, too. Sometimes at the expense of their show title: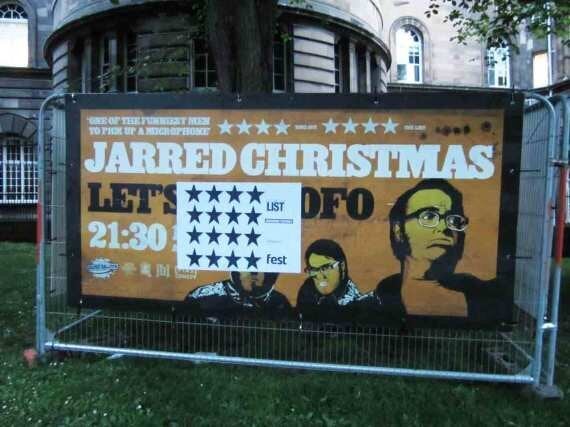 And sometimes at the expense of their entire poster: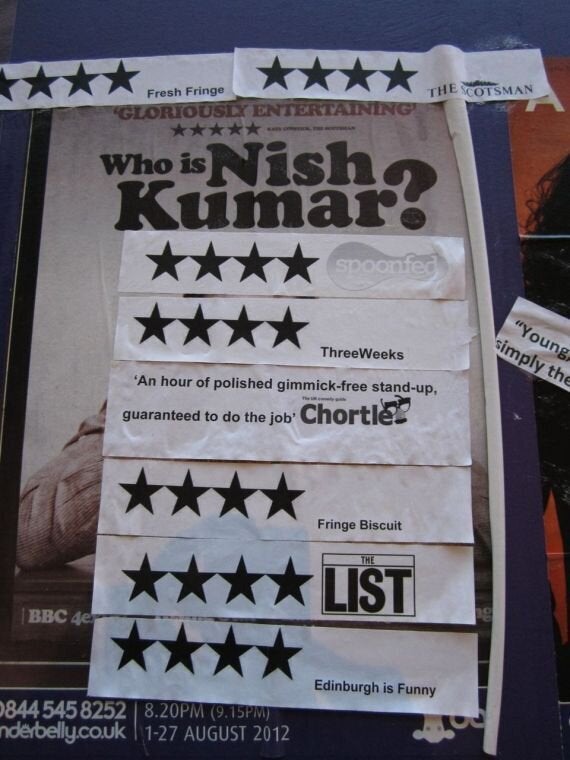 Still, if these posters prove anything, it's surely that all that matters, in the end, is your name. And your star-rating.
Meanwhile, in other Edinburgh Fringe-tasticness...
Josie Long: Romance And Adventure An impassioned, hilarious hour of comedy in which our heroine muses over both the political and personal, covering such issues as the enjoyment of upper-class activities, things to do before you're 30, and how to be "a prick for good". Sometimes in a 1920s American accent.
Sara Pascoe: The Musical! Quirky without being alienating, natural without being dull, and very, very funny without being cocky, Pascoe takes her audience through her (mainly adolescent) life story - complete with the occasional song. Not just a gifted storyteller but a great singer, too. Mind you, in her own words, she is an over-achiever.
The Horne Section: Live At The Grand! Alex Horne and his intrepid band of jazzers once again provided an utterly delightful mix of songs and silliness - culminating in all the audience members with beards standing on stage. Tuesday night's guests were a pretty special bunch, too - Simon Amstell performed an epic medley of Enrique Iglesias's Hero, Seal's Kiss From A Rose, Vanessa Carlton's A Thousand Miles and Circle of Life from The Lion King (no, really). And just when you thought that couldn't be topped, Suggs turned up to lead the audience in a singalong of It Must Be Love.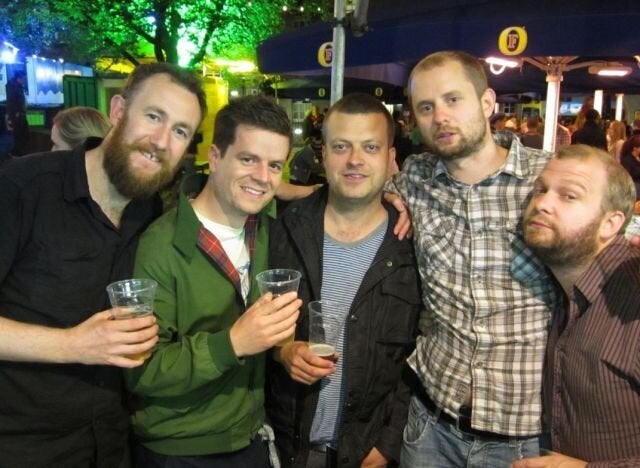 Five-sixths of The Horne Section. It must be love.
A slideshow we'll keep adding to as we make our way around the city and the shows. Warning: may contain images of street performers.