The Mars rover Curiosity has been driven on the surface of the red planet for the first time since its dramatic landing earlier this month.
Nasa drove the rover forward 4.5m, before rotating it 120 degrees and reversing 2.5m.
The rover is now about 6m away from where it landed.
The test drive confirmed that its mobility systems are working, Nasa said - and also provided the team with the first pictures of its tire tracks on the surface of the planet.
"We have a fully functioning mobility system with lots of amazing exploration ahead," said lead deriver Matt Heverly.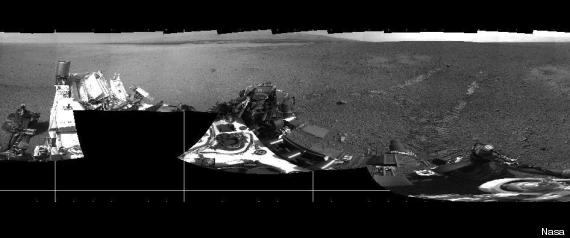 Above: tire tracks on Mars
Because of the time delay in sending data to and from Mars, the rover's movements have to be pre-programmed, placing a heavy burden on the driving team and nervous moments for the scientists behind the one-tonne, £1.6bn machine.
Its first destination is located about 400m to the east-southeast of its landing position.
Nasa also announced it has named the landing site where the rover descended from a 'sky crane' 17 days ago after the author Ray Bradbury.
The site is now known as 'Bradbury Landing' Nasa said.
"This was not a difficult choice for the science team," said Michael Meyer, Nasa program scientist for Curiosity. "Many of us and millions of other readers were inspired in our lives by stories Ray Bradbury wrote to dream of the possibility of life on Mars."
Above: The Nasa team celebrates driving Curiosity on Mars