The shooting of at least people outside the Empire State Building has shocked due to its busy, central location but it is not the first tragedy to have happened at the iconic building.
Kamal's wife later insisted he became suicidal due to dire financial straits with debts exceeding $300,000, while his daughter claimed he committed the shootings in order to get revenge on America for its support of Israel. He had apparently moved to the US less than three months before the atrocities.
Decades before Kamal's acts, the former world's tallest building was hit by a US military B-25 Mitchell bomber trying to reach Newark airport but lost itself in deep fog in 1945.
Betty Lou Oliver, one of the building's lift attendants, incredibly survived a 74-floor fall inside her elevator, returning to her job only months later. Workers clear up wreckage after a bomber hit the Empire State Building by accident in 1945
One of the most notable was the death of Evelyn McHale, who threw herself from the observation deck from the 86th floor, which led to a remarkable photo being taken by photographer Robert Wiles.
The photo depicts the 23-year-old McHale, after she crashed through the roof of a limousine, looking serene and unscathed from her tragic fall.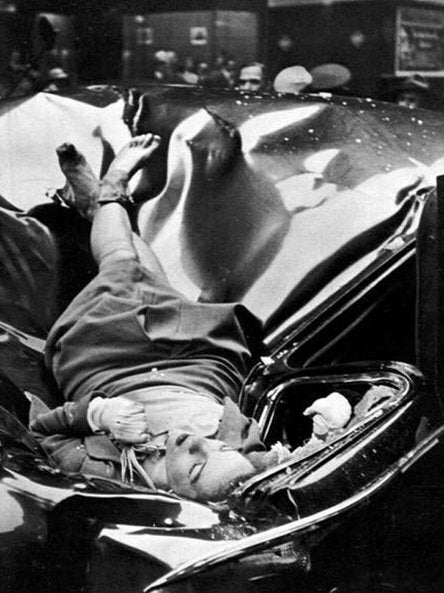 The incredible picture of McHale, taken shortly after she had jumped from the building