When Virginia Woolf asked for a room of her own, she was of course mistaken.
What she needed was a feminine pen, or biro, to help focus her girly mind.
Thankfully, pen manufacturers BIC understand the difficulties women face attempting to write 'her story' with male-orientated scribbling implements.
So, for a mere £14.83 (slightly less if you're willing to go second-hand...) Amazon.co.uk will sell you a box of 12 BIC For Her Amber Medium Ballpoint Pen - Black.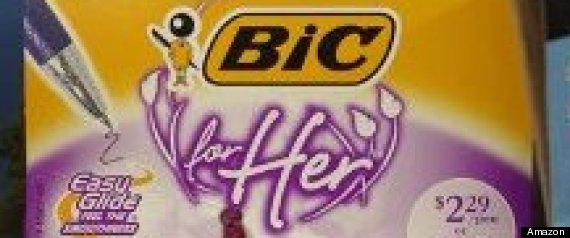 As reviewers explain, the experience of writing with a pen that's "designed to fit comfortably in a woman's hand" is transformative.
"It was amazing! The pen just stayed in place between my fingers, just like it always had for the boys in my class at school. Well, in no time I'd filled a whole notepad and had to go and get another one!" explains M Holloway, on Amazon.co.uk.
"I've gone back to night school and hope to realise my ambition of enrolling on a childcare course next year. I'm also halfway through writing an erotic novel set in Victorian times - but with vampires!"
Of course, the reviewer is joking -- as are the following 119 reviews that each question the relevance of creating a pen just for women.
"I bought this pen (in error, evidently) to write my reports of each day's tree felling activities in my job as a lumberjack. It is no good. It slips from between my calloused, gnarly fingers like a gossamer thread gently descending to earth between two giant redwood trunks," says Davey Clayton.
While, others reviewers, including poor Jjo54321 whose husband has forbidden her to buy the pens, are facing down critics who question whether women should be allowed to write at all.
"Overtly encouraging women to write will contribute to the end of civilised society as we know it," says Tim Miles.
"What next? Women doctors? Women scientists? Women politicians? This product is surely a symbol of the declining moral standards that Britian has experiences since the misguided decision to give women the vote."
Other men, however, have welcomed the influence of an emotionally attuned writing instrument.
"Before I started using this pen, I was a typical male: unable to express any feelings beyond hungry and horny. Now I have a more expressive and nuanced view of myself and of others. Now, I do not have to ask my wife what is wrong because, thanks to this pen I SOMEHOW KNOW. I have become more open, and can listen better. Thank you bic, I love you."
But, as always not everyone gets the joke.
Mr Spluffypants says: I tried these on a whim, and I have to say I wasn't very impressed. The applicator mechanism is far too fiddly, and the plastic tampon inside far too thin (not to mention uncomfortable and non-absorbant).
"I'm sure there must be a knack to using them, but I couldn't find it. They also stained my knickers blue for some reason. I really wanted to like these, but it's back to pads for me."