London Metropolitan University has lodged a legal challenge to the government's revocation of its sponsorship licence for overseas students.
It hopes to get the application to bring a judicial review before a High Court judge for urgent consideration on the papers within two days.
The university's highly-trusted status (HTS) for sponsoring international students was suspended while the UK Border Agency (UKBA) examined alleged failings.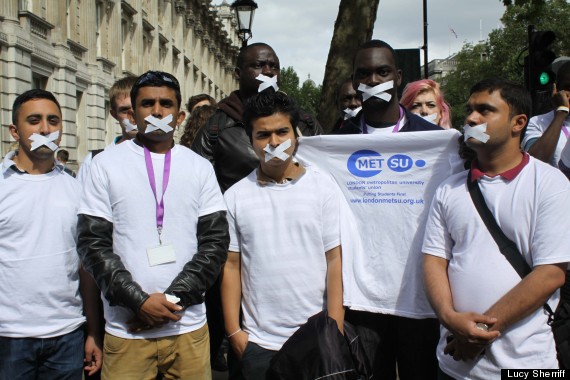 Around 40 students gathered outside 10 Downing Street on 30 August to hold a silent protest to signify having no voice
Of 101 sample cases, 26 students were studying between last December and May even though they had no leave to remain in Britain, UKBA figures showed.
A lack of required monitoring meant there was no proof that students were turning up to lectures in 142 of 250 (57%) sampled records. And 20 of 50 files checked since May for evidence of mandatory English language testing and academic qualifications showed poor assessment, where documents were either not verified or not held.
More than 2,000 students left in limbo will get three months to find an alternative course, officials have said.
Genuine students have 60 days to make a new application or to arrange to leave the UK, but the countdown starts only when UKBA writes to them and no letters will be sent out until October 1.
Professor Malcolm Gillies, the university's vice chancellor, has described the claims as "not particularly cogent".
"I would go so far as to say that UKBA has been rewriting its own guidelines on this issue and this is something which should cause concern to all universities in the UK," he said.
SEE ALSO: