Face it: it's over.
Euro 2012 is a distant memory, the Olympic bunting is being pulled down as we speak and the wind is already whipping our ankles with an Autumnal chill - Summer has gone and left us, again.
But wait! It isn't all bad. As the world gets colder, there are still things to look forward to - beautiful things, like mulled wine and fireplaces and ...snow.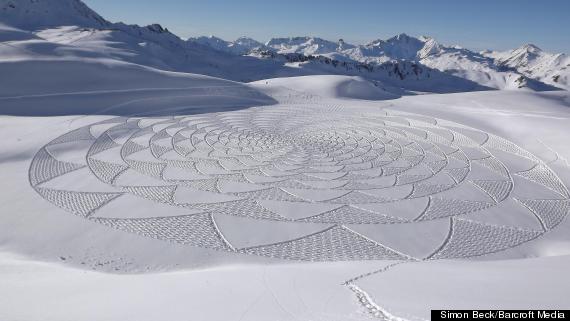 British artist Simon Beck understands the aesthetic potential of snow better than most, which is why he recently traveled to Les Arcs in the French Alps to create these stunning 'snow crop circles'.
His method? Dragging his feet around with an orienteering compass in one hand until he's made the perfect geometric designs.
Admire their strange beauty below, and take inspiration from a man who has embraced the Winter months with a full heart. And a cold foot, we imagine...