Sexual harassment? There's an app for that.
The simple grid format allows you to select "who" is harassing you and "where" the harassment is taking place: from co-workers being inappropriate in the office to students harassing you at school and strangers catcalling on the street.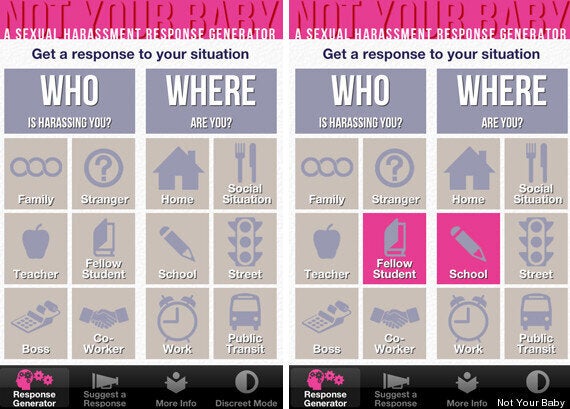 Depending on your selection it then provides a range of tailored advice to suit the users needs, from witty retorts for the heat of the moment to offering legal definitions of sexual harassment and details of appropriate community resources.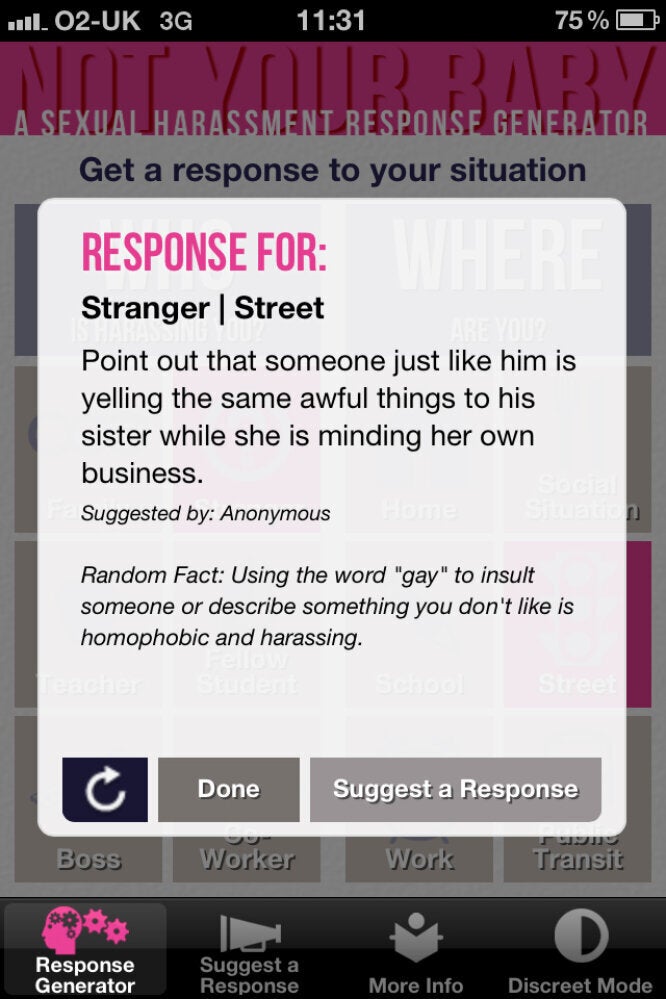 Not Your Baby iPhone App
At present Not Your Baby is free and offers a discreet source of support when you're lost for words or struggling to come to terms with something.
The advice currently on offer on the app derives from a survey of 200 people, but as Not Your Baby grows, it has the potential to become a rich resource for support and advice.
"I think any public scheme or resource that is raising awareness of the prevalence of street harassment and encouraging a reassessment of how readily we accept and normalise it is a great step in the right direction," Laura Bates, founder of the Everyday Sexism project, told HuffPost UK Lifestyle. "Many people tend to think of it as not particularly serious, with victims being told they are 'overreacting' or should 'take it as a compliment'."
Examples from the Everyday Sexism project
She added: "That said however, I am wary about the idea of tackling the problem with means which seek to alter victim behaviour rather than focussing on perpetrators. Women shouldn't be having to learn mechanisms and responses to deal with street harassment, we should be stopping street harassment altogether."
Speaking to HuffPost UK Lifestyle Joseph Stashko, journalist and publisher of Meninism also had positive things to say about the innovation: "The app can only be a good thing - many people unfortunately feel that sexual harrassment is just part and parcel of life - and not something to be challenged whether on the street or in the workplace.
"I think sharing experiences and providing advice via mobile is great - it means it can be pretty private and evidently we take our phones everywhere."
But he argued there is still a long way to go: "I think a push to men would also be beneficial not only to make them aware of the impact that sexual harassment has on women, but also because they will also have situations that they'll identify with."